Olympus OM-D E-M1X hands-on: A Pro-ready portable powerhouse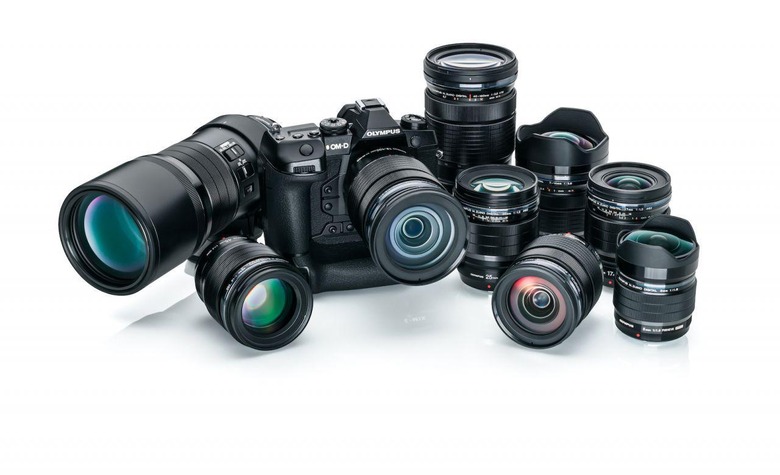 There are just some things that seem to be mutually exclusive. Night and day, power and portability, complexity and reliability. So when someone comes up with a way to bring opposites together, it's almost always regarded as nothing short of genius. It may not be aiming for something quite as lofty as that, but Olympus may have just checked off just the right boxes to make it so. With the new OM-D E-M1X, Olympus is offering a highly portable yet powerful camera that professionals can rely on all the time, no matter the conditions.
What does reliability mean anyway? Olympus itself asked that question and, unsurprisingly, the answer varies from photographer to photographer. But rather than just focus on a single definition, Olympus opted to hit as many targets as it could, starting with the way you hold the camera.
To better answer the question of what does reliability means, Olympus invited SlashGear out to Orlando for a few days to spend time with the the new E-M1X. It doesn't take long before you get a sense that the E-M1X is much larger than the E-M1. Of course, you'll easily forgive and forget the size increase, with all the internal improvements as well as the additional grip housing two batteries for longer shoot time, not to mention the new ease of taking vertical pictures or videos.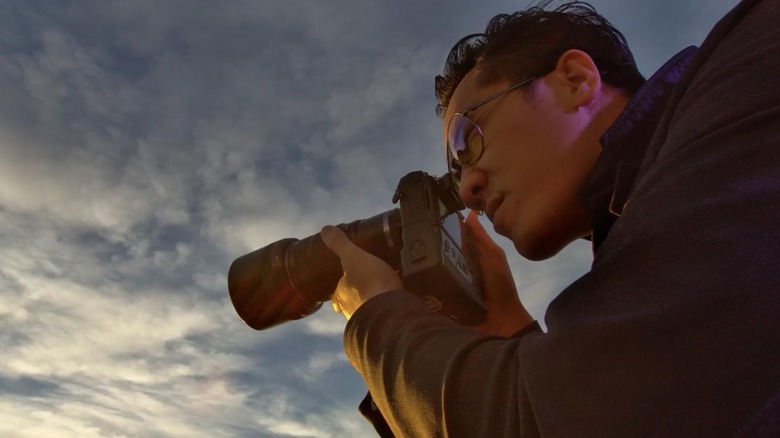 By default, cameras are designed to be held horizontally. Composition and subjects, however, aren't so one-sided. Sure, you can turn it to its side but, in addition to weakening your grip on the camera, it also becomes cumbersome to use buttons and controls that were obviously made for a single orientation. That's why with the E-M1X, Olympus included a built-in vertical grip to let you hold the camera whichever way you like, without losing time attaching or removing add-on grips. Olympus also went the extra mile, however, by duplicating some of the key buttons and dials, including the new AF multi-select, on both horizontal and vertical grips.
Worried you might accidentally trigger those? A new C-LOCK lever automatically disables those controls on the opposite side, to prevent such unfavorable situations.
Initially, I had expected the squared-shaped and size could get in the way of carrying the camera around, but that proved not to be the case at all. Indeed, even when paired with the 40-150mm and the larger 300mm lenses, it didn't prove intrusive. In fact, there's no way I'd be able to do so had it been a larger full-frame camera with the equivalent lenses.
Of course, reliability in a camera is also equated with durability and ruggedness. Happily, the E-M1X delivers that in droves. Its dustproof, splashproof, and freezeproof design ensures you won't have to fumble for a cumbersome cover when it starts to rain. Olympus' unique Super Sonic Wave filter vibrates at 30,000 times per second to keep dirt and dust off the camera, making it perfect for those wildlife shots. And when both the weather and the camera get too hot to handle, its heat dissipation will make sure the camera won't slow down or, worse, shut down.
In fact, while were were out with the E-M1X shooting at a motorcross event, rain started pouring down. Instead of running for cover or trying to shield the camera, however, I continued to shoot freely with confidence that it'll hold up just fine. Even usability needn't suffer in inclement conditions: the grips stay grippy whether wet or dry.
Pro photographers can also rely on the E-M1X to stay on track of the subject, whether automatically or manually. For the latter, the AF Multi Selector joystick – present on both horizontal and vertical positions – allows you to shift the autofocus area horizontally, vertically, and even diagonally, all without taking your eye off the viewfinder. The camera's cross-type 121-point on-chip Phase Detect AF ensures you have more focusing choices, no matter the situation. And, thanks to some AI help, the Intelligent Subject Detection AF is able to detect motorsport, airplane, and train subjects, and follow the important points, leaving photographers free to focus – no pun intended – on composing the shot.
We spent the day at Daytona Speedway to test out the AI feature, taking pictures of fast-moving NASCARs blowing by. This feature instills confidence for someone such as myself with less race photography experience, and I'd imagine pro-photographers wouldn't argue with a helping hand either. It also makes pan shots easier to take.
The camera's Dual TruePic VIII image processors make short work of the heavy lifting needed for fast startups and fast data transfers, especially with two UHS-II SD cards. In addition to improved responsiveness, the TruePic VIII also enables features such as the AI Intelligent Subject Detection AF, Handheld High Res Shot Mode for capturing high-def photos even without a tripod, and five levels of Live ND for slow shutter effects without having to snap on a filter. The E-M1X's gyro sensors deliver 7.0 shutter speed steps of compensation in the camera body alone, which can be taken up to 7.5 with a matching M.Zuiko Digital ED 12-100mm F4.0 IS PRO lens.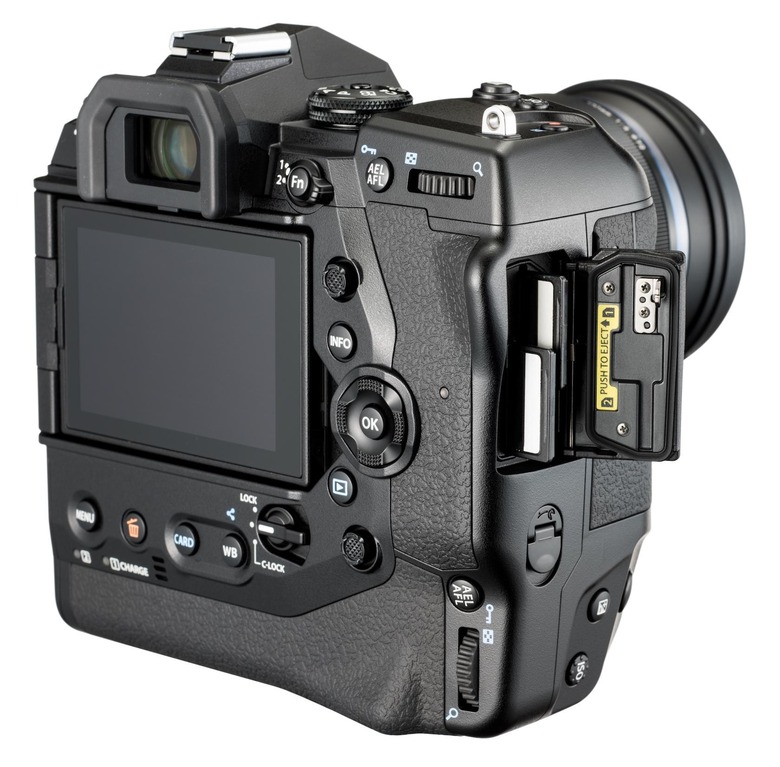 All of these features would be for naught if the camera was prone to dying in the middle of a shoot. Fortunately, the OD-M E-M1X is reliable in that sense, too, with a dual battery system for two BLH-1 lithium-ion packs. It's designed so that they can be inserted or removed even while the camera is attached to a tripod. When it comes time to charge up, though, you don't even have to remove them from the body, thanks to support for the 100-watt USB-C Power Delivery standard.
Having a second battery means longer shoot times, and the new USB-C PD support is even more convenient. You can use an external charger or, as I did, simply connect the camera to the new MacBook Pro for a quick top-up.
The E-M1X was built with professionals in mind. Having shot the Rolex 24 Hour endurance race a couple of times, I know exactly how tough it can be racing from one place to the next. While I don't shoot motorsport for a living, I'm all over the world covering automotive and tech events in some of the most remote locations. The reliability allowed me to take the camera with me to Baja, where the terrain has been some of the toughest I've experienced, not to mention all the dust and dirt flying around.
Some of my lingering frustrations with the E-M1 have been addressed this time around. Using the High Res feature on the E-M1, for example, can be painful because it requires a tripod. Those days are long gone with the E-M1X: you're able to take a 50 MP shot without a tripod, or a whopping 80 MP with a tripod. As soon as you snap a shot, the background processing takes over, allowing you to go about your business instead of having to keep the camera perfectly still. This is really useful if you plan on producing large prints.
From the built-in GPS to the Olympus Capture Wi-Fi image transfer to the super Silent Mode, the Olympus OD-M E-M1X is designed to be a camera that professionals can rely on for all their photography needs. It's especially competitive when it comes to covering sports events and wildlife, where the elements are not your friend, and even a little shutter noise can ruin a perfect shot. That you're getting this in a portable body, that doesn't need an add-on grip or a tripod to be fully functional, is all the more impressive. The Olympus OM-D E-M1X goes on sale in late February, available only in black, for $2,999.99.
Stay tuned for SlashGear's ongoing testing/coverage as we break down all the E-M1X's new features in upcoming articles. Disclosure: Olympus invited SlashGear to Orlando on an experiential event to test out the new OM-D E-M1X. They covered the cost of flights, hotel accommodations and meals.