Olympus is taking the spirit of CES to heart and then some, announcing six brand new cameras during the trade show. These cameras range from sleek and slim to tough and rugged, so there should be something for almost everyone with this new range. Cameras included in this grand CES 2013 showing include the Stylus Tough TG-2 iHS, Stylus Tough TG-830 iHS, Stylus Tough TG-630 iHS, Stylus SH-50MR iHS, Stylus SZ-16 iHS, and Stylus SZ-15, each of them prepared for a 2013 release. This week we got the opportunity to get our hands on the full lot.
Stylus Tough TG-2 iHS
We'll start with the Olympus Stylus Tough TG-2 iHS, which is for those who need a camera that will stand up to abuse but still takes good shots. Most times it seems you can't have both, but that's what Olympus is shooting for with the TG-2, offering a 12MP backlit CMOS sensor in a package that's waterproof up to 50 feet, and if you feel like taking your camera diving, the cmaera includes a manometer that will keep track of your depth and warn you when you're closing in on 50 feet.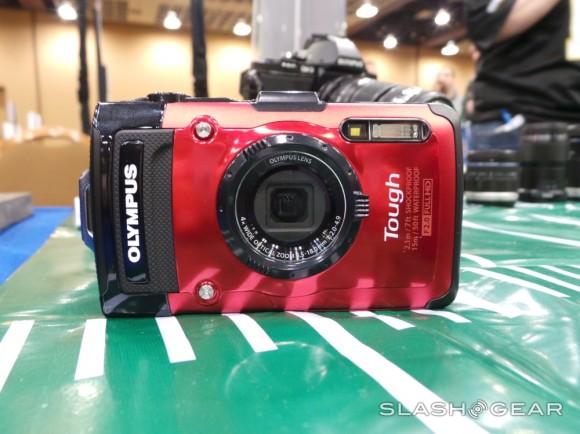 Of course, a camera can't exactly be called "tough" if it's only waterproof, but thankfully the TG-2 is also crushproof up to 220 pounds, shockproof from heights of up to 6.6 feet, freezeproof down to 14 degrees Fahrenheit, and dustproof. It also makes use of multi-motion movie image stabilization to create a smoother video regardless of movement while recording. As you can tell from the name of the camera, it boasts the iHS family of technologies to make it easier to snap pictures in less-than-favorable shooting conditions.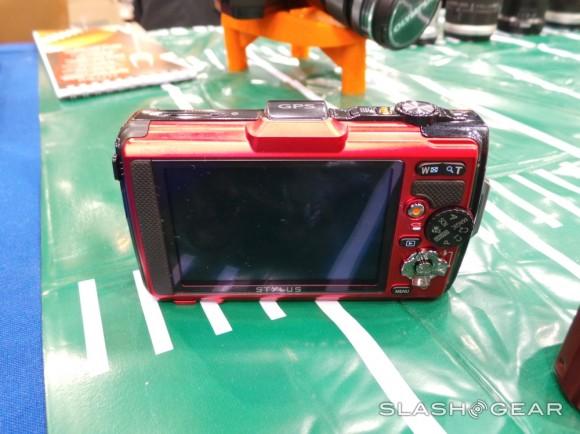 The TG-2 is capable of recording video in full HD, and it comes equipped with a TruePic
VI image processor and a high-speed f2.0 lens. The camera is also expandable, and supports both Olympus' fisheye converter lens and teleconverter lens. The TG-2 comes in black or red, and sports a 4x optical zoom (which can go up to 14x zoom with the camera's microscopic macro function), 8x super resolution zoom, and a 3-inch OLED screen around the back.
At $379.99, the TG-2 is the most expensive camera Olympus introduced today, so be prepared to plop down some cash if you want to take it home. Olympus says the TG-2 will be available starting in March.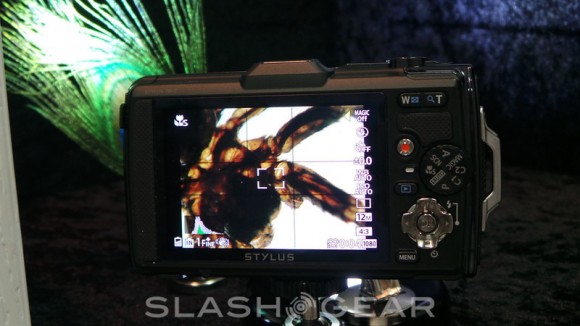 BONUS: We had the chance to capture the rig that our kind Olympus host created to take macro photos with the TG-2 – have a quick peek here!
Stylus Tough TG-830 iHS
Next we come to the TG-830, which has more than a few things in common with its slightly more expensive brother, the TG-2. The TG-830 is waterproof like the TG-2, but only to 33 feet. It also happens to be shockproof up to 6.6 feet, crushproof up to 220 pounds, dustproof, and freezeproof, so you're getting an extra rugged camera with this bad boy. It uses a 16MP BSI CMOS sensor, features a 3-inch LCD screen, and is capable of recording full HD video.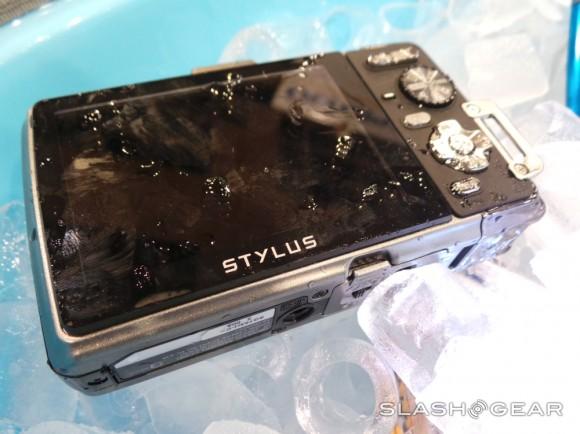 (Also pictured at the head of this article.)
With the TG-830, you've got features like HDR backlight adjustment, smart panorama, and high-speed sequential shooting, so Olympus is trying to make this camera easier to use in difficult conditions. You'll be able to shoot HD video at 60fps thanks to 60i Movie from Olympus, while dual-image stabilization will do its part to make sure that image blur stays under control. You'll also have a range of colors to choose from, including silver, black, red, and blue. This one is slightly cheaper than the TG-2, coming in with a price tag of $279.99. Like the TG-2, Olympus is planning to launch the TG-830 in March.
Stylus Tough TG-630 iHS
If you want the same kind of durability as the TG-830 but don't want to spend quite so much, the TG-630 might be worth a look. Like the TG-830, this one is waterproof up to 16 feet, shockproof to 5.5 feet, freezeproof, and dustproof, so the only difference between the two is a lack of crushproofing in the TG-630. It actually has many of the same features as the TG-830 as well, including backlight adjustment and sequential shooting, along with TruePic VI image processing and full HD video functionality.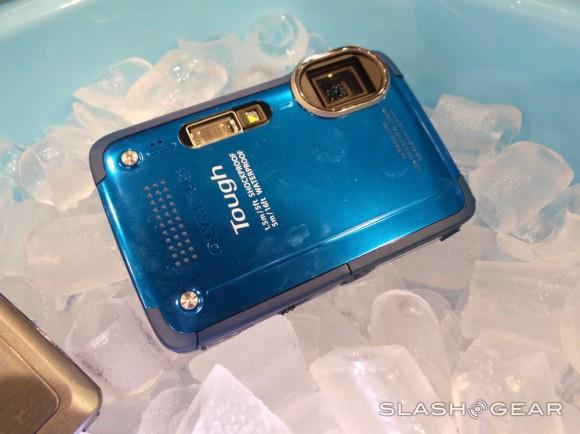 The TG-630 features a backlit sensor CMOS sensor and a number of ease of use features, including sequential shooting, backlit HDR, handheld starlight, and dual image stabilization. The TG-630 also features a number of "Magic Art Filters" that you can apply to photos and an HDMI port so you can hook it up to you TV to watch your videos and view your photos.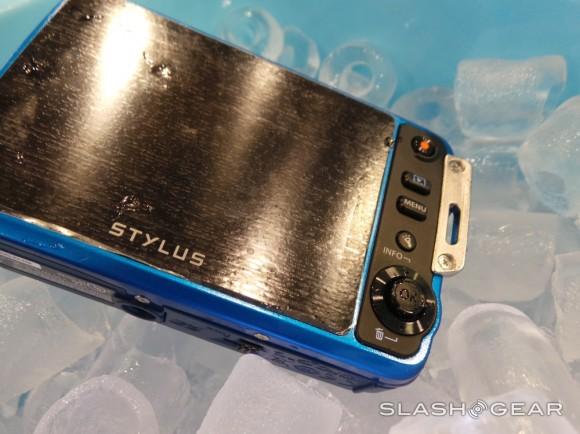 Note: the screen protector the device ships with is still on the device in this photo – the real deal is not quite so strange looking (glassy smooth).
Available in four different colors – blue, red, white, and black – the TG-630 sports a price tag of $199.99, which shouldn't be too much for those looking for a decent camera on the cheap. Expect to see this guy hitting shelves in March.
Stylus SH-50MR iHS
Now it's time to move away from the rough and tumble bunch and onto the Olympus Stylus SH-50MR iHS. Olympus promises that this one comes with "all the bells and whistles," including 5-axis video stabilization and 3-axis image stabilization. You can use the camera's photo-in-video feature along with the 16MP CMOS sensor to snap pictures while you're recording HD video, which is a handy feature indeed. Like the TG-830, you'll also have 60i Movie at your disposal, which lets you capture 60fps HD video.
You'll have 24x optical zoom and 48x super resolution zoom to take advantage of here, and Olympus is shooting for increased ease-of-use with this camera as well, including features like hand-held starlight and HDR backlight adjustment. There's also a 3-inch LCD touch screen around the back, which allows for easy image editing on the fly. Available in only white and black, the SH-50MR doesn't feature the wide array of color options its brothers do, and at $299.99, you'll have to make a pretty significant investment before you take one home. Like al of the other cameras introduced today, the SH-50MR should be hitting shelves in March.
Stylus SZ-16 iHS
Next we come to the Stylus SZ-16 iHS, which once again features a 16MP CMOS sensor. Many of the other talking points with the cameras introduced today are present in SZ-16, including 1080p video capabilities and multi-motion movie image stabilization. We've got 24x optical zoom and 48x super resolution zoom standard on this bad boy, along with a 25mm wide angle lens.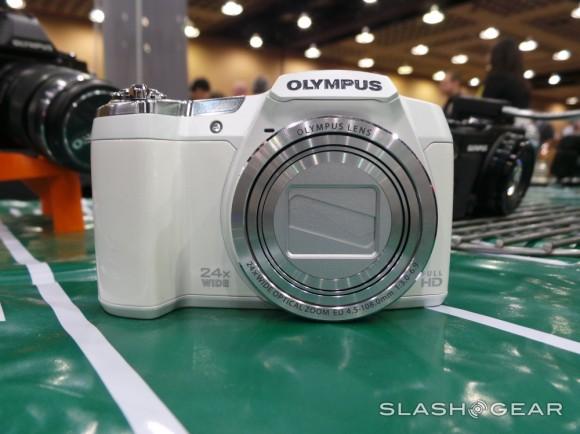 A 3-inch LCD screen has taken up residence on the back, and ease-of-use features out of the box include HDR backlight adjustment and high-speed sequential shooting. It sounds quite similar to some of the other cameras that were introduced today (including a March launch), but this one will only set you back $229.99. Something to consider if you've been on the lookout for a decent camera that isn't going to break the bank.
Stylus SZ-15
Finally, we have the SZ-15, which is in very many ways a more affordable (and less feature-rich) SZ-16. You'll be working with a 14MP CMOS sensor out of the box, which is upgradable to 16MP if you don't mind parting with a little extra cash. This appears to be smaller than the other cameras we've seen today, though it only features 24x optical zoom. Super resolution zoom is available as an extra, so that kind of functionality won't come standard.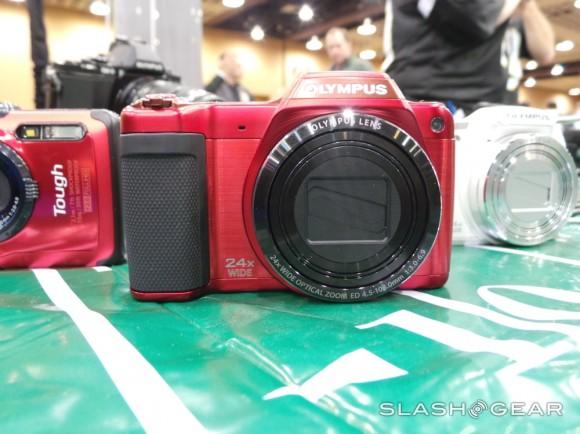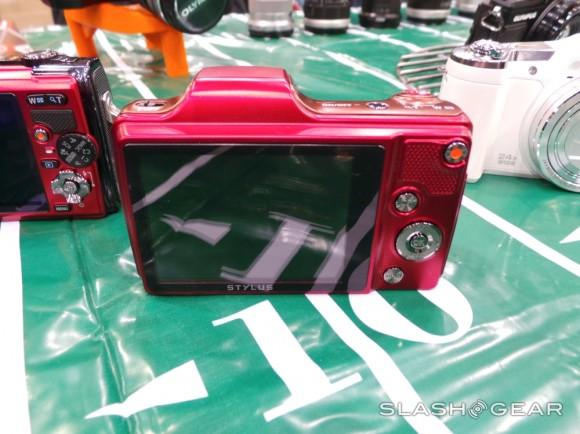 We're also getting a bit of a downgrade with the TruePic image processor, as this one is only a TruePic III+ rather than TruePic IV. The magic art filters we saw with the TG-630 are present in the SZ-15, as is a 3-inch LCD screen. At $199.99 and a March release window, the SZ-15 comes in three different colors: silver, red, and black.
So there you have it folks – Olympus announced quite the line up of cameras here at CES, so if you've been searching for a new snapper, one of these might be worth considering. We're sure we'll be hearing more about these cameras in the days and weeks to come, so keep an eye out for those details. Of course, we'll have plenty more from CES 2013 coming up here at SlashGear, so stay here with us!