Olympus E-450 DSLR debuts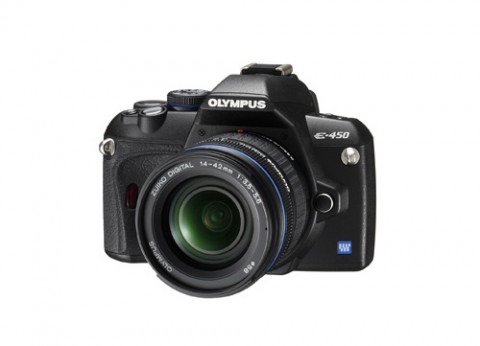 Olympus announced a brand new camera today that targets the entry-level market. The E-450 is a DSLR that provides a cheaper alternative to the more expensive models while still offering up a decent amount of features.
The E-450 actually replaces the older E-420 in the Olympus line up. This camera features a 10-megapixel sensor, ISO 100 to 1,600, a 3.5fps shooting speed and a True Pic III + image processor. The camera can only hold 8 RAW images, however.
This latest model has a better Live View mode, autofocus, shadow compensation, face detection, a 2.7-inch LCD screen, CF and xD card support, flash sync and more. Several artistic filters are included as well to allow you to set up and frame your ideal shots. You can get the Olympus E-450 starting in May as a part of three kits–body-only; basic, which features a Zuiko 14-42mm f/3.5-5.6 lens; and Double Zoom, which features the above and an additional 40-150mm f/4.0-5.6 lens.
[via Crave at CNET]