Olympus Air A01 first-impressions: Modular Micro 4/3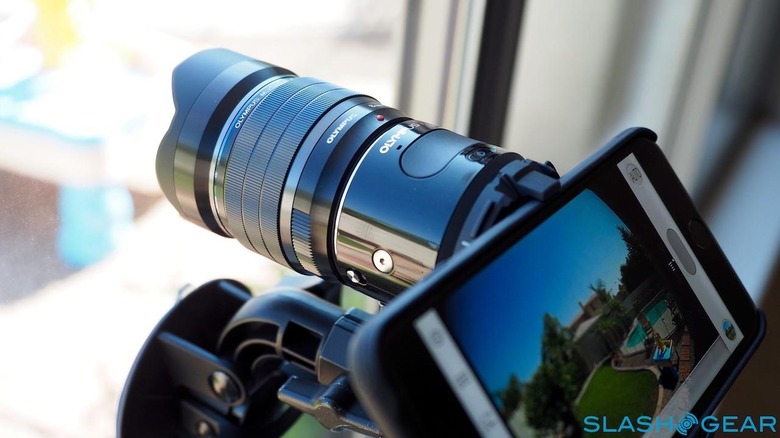 You'd be forgiven if, after taking a quick glance at Olympus' new Air A01 doohickey, you dismissed it as a lens of some sort. In fact it's more, much more. Think of the Air A01 as a Micro Four Thirds or Micro 4/3 camera minus the lens and display: ultra portable, allowing you to place or mount it anywhere your creativity takes you, and paired up wirelessly with an iOS or Android device. While add-on cameras are something we've already seen from Sony, Kodak, and others, Olympus' decision to go for interchangeable lenses sets the Air A01 apart; read on for my first impressions.
I've only had the Air A01 for a few days so it isn't fair for this to act as a full review. Instead, I'll be putting the camera through its paces over a number of smaller articles, kicking off with my hands-on experience and first impressions with the hardware, setting up the software, and of course actually using it with various types of lenses.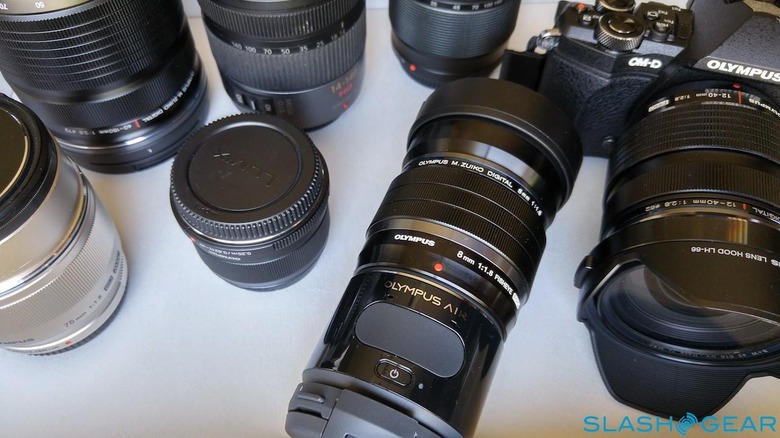 That'll mean a trip to my Micro 4/3 lens kit bag, which currently contains a 25mm f/1.8, 75mm f/1.8, 12-40mm f/2.8, 14-150mm f/4-5.6, 40-150mm f/2.8 and a Panasonic 14-140mm with OIS from my Lumix days.
Olympus will offer the Air A01 body-only for $299.99 in the US come July, or for $499.99 when paired with a 14-42mm EZ lens. It'll follow on in Canada come August, priced at CA$399.99 body-only, or CA$599.99 with the kit lens. Black and white colors will be available.
Although the Air A01 is most flexible when used with a paired phone or tablet, it'll still work as a standalone camera. A very large shutter button located on top of the device works as you'd expect: half press it, and then when you hear the autofocus stop, hard press to snap a shot. Unsurprisingly, this isn't ideal because there's no way to tell what the lens focuses on unless you're using a wide 12-40mm or a fisheye.
By opting for the Micro Four Thirds standard, the Air launches with a wide variety of lenses available from both Olympus and Panasonic out of the gate. While maintaining a much more compact chassis than the competing Sony models, Olympus managed to squeeze in the same 16-megapixel Live MOS image sensor and TruePicVII image processor as found in its latest OM-D and PEN cameras, while keeping the body down to 5.2 ounces. When paired with the 14-42mm EZ kit lens, the total weight comes to 240g or 8.5oz.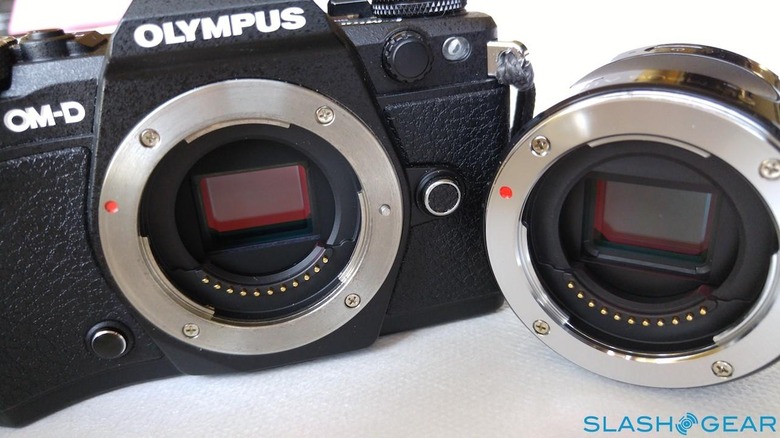 NOTE: Before we get started, please note that the Air A01 hardware on loan to SlashGear from Olympus is still pre-production so any irregularities may be resolved in the production version. I'll be checking out anything out of the ordinary with Olympus, since it might not be an issue by the time the camera reaches store shelves.
Set Up
Setting up is pleasingly simple. The Air A01 supports both iOS and Android but during my testing so far only the former app has been available. I'll circle back and test the Android version when it's released. I didn't have any problems installing the memory card, charging up the unit, and pairing it up with my iPhone 6 plus.
Out the gate, Olympus is releasing eight different apps: OA.Genius, OA.ArtFilter, OA.ColorCreator, OA.PhotoStory, OA.ModeDial (which I found myself using the most), OA.Clips, OA.Viewer, and OA.Central.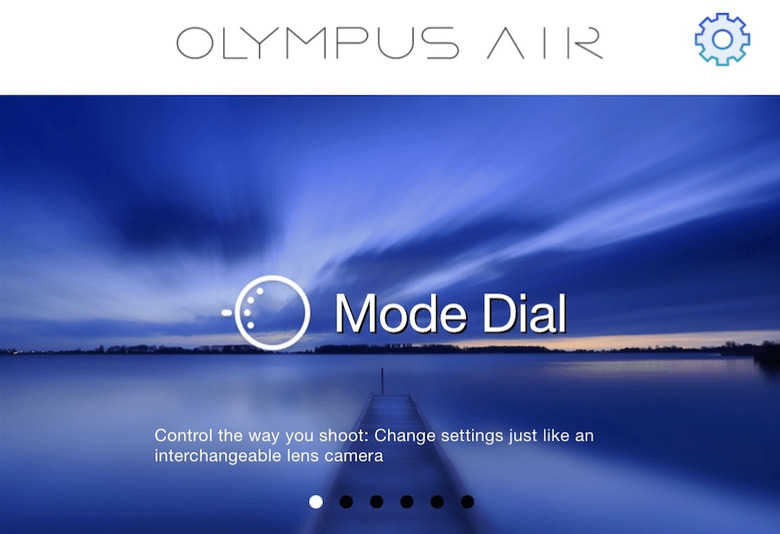 You'll be most familiar with OA.ModeDail because the interface is just what'd expect from a "regular" camera, though perhaps in a simpler form. Power on the Air, then after connecting your phone to the built-in WiFi network, you launch the OA.Central app which brings up four main sections.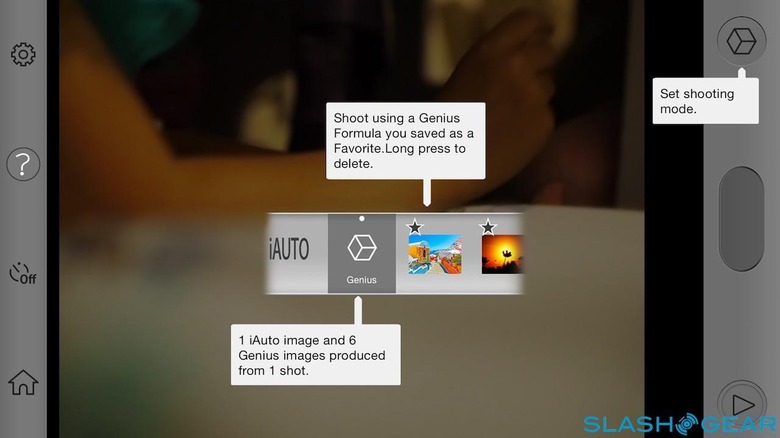 At the top, you have the Mode Dial, Art Filter, Color Creator, Photo Story, Clips, and Genius. Next on the list is the View Images app. Third is camera settings (with a long list of configurations). and last is Amazon Cloud Drive. That's right, Olympus baked in Amazon Cloud Sharing, and it's currently the only option if you want to automatically upload images and videos to the cloud. Still, of the options Olympus could have picked, Amazon Cloud Drive is a solid choice considering how inexpensive storage is. If you're a Prime member, you're already getting unlimited photo storage plus 5GB of videos and files free, while the Unlimited Everything plan will set you back $59.99/year.

After you launch OA.Central, there's a setup icon on the top right hand corner. Click on it, then select Start Initial Setup, and the app walks you through how to remove the Air Coupling (aka the phone holder); behind that there's a rear cover you will need to remove before gaining access to the microSD memory card slot and microUSB charging port.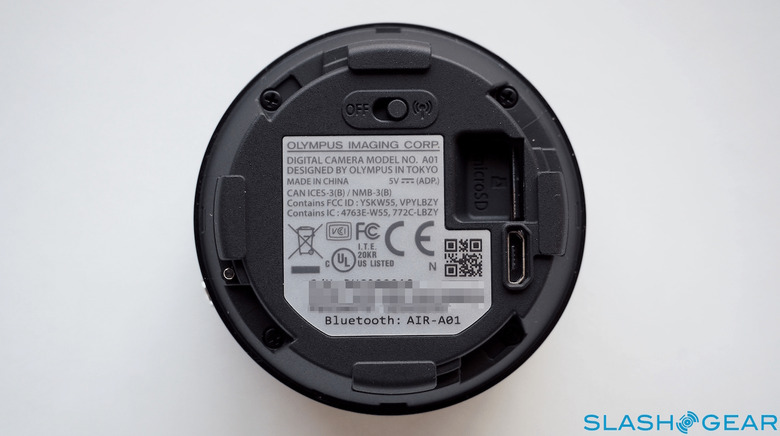 Also located on the back is a switch for turning the wireless radio on and off, along with the SSID, default password for the WiFi, and a QR Code which you scan when the time comes to complete setup. After that point, the app walks through setting up a Bluetooth connection.
Shooting with the Air A01
As I mentioned before, OA.ModeDial is where you'll find yourself most of the time. I really like the layout because the icon placement works well with the positioning of your thumbs on both sides of the screen.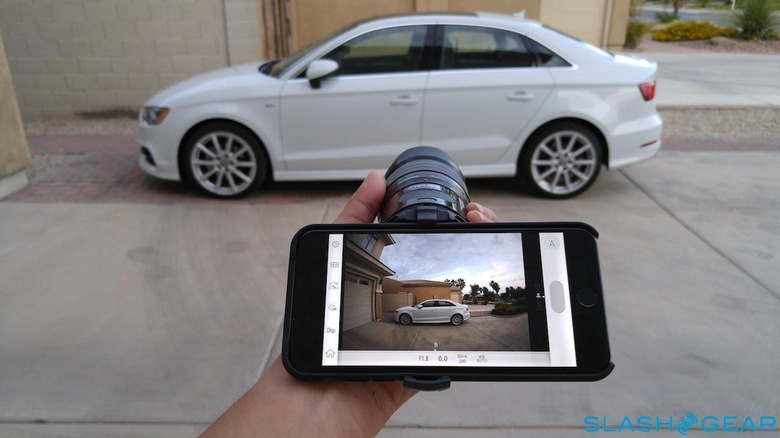 Starting from the top down on the left you have of settings, metering, zoom, timer, display options, and a home button. Right at the top is the shooting mode / select button, or the PASM shooting modes selector as Olympus calls it, just like on a more advanced DSLR or Micro 4/3 camera. Dead-center is the shutter release button, nice and big so there's no chance of missing it.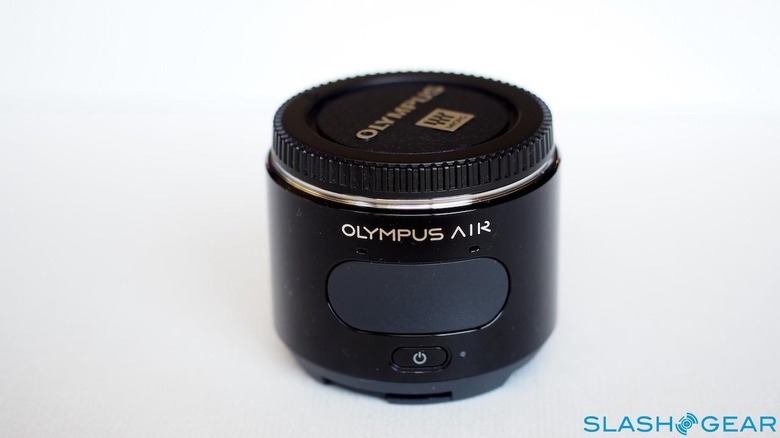 iAuto is more than sufficient for everyday shooting, though I'd recommend that everyone venture off and test out the other modes available. Aperture priority is my mode of choice, with my favorite feature being Touch AF Shutter release, something that's already an option available on all OM-D cameras. The moment you touch the area you want to focus on, it also releases the shutter and captures the image all in one fell swoop.
You're probably wondering where the images and videos get saved to, right? There's the option of capturing images directly to the Air A01's memory card, to the "smart device" i.e. your iPhone or Android phone, or both. It's important to note that while on paper saving images and videos to both locations may sound like the ideal thing to do, in practice it's not so great.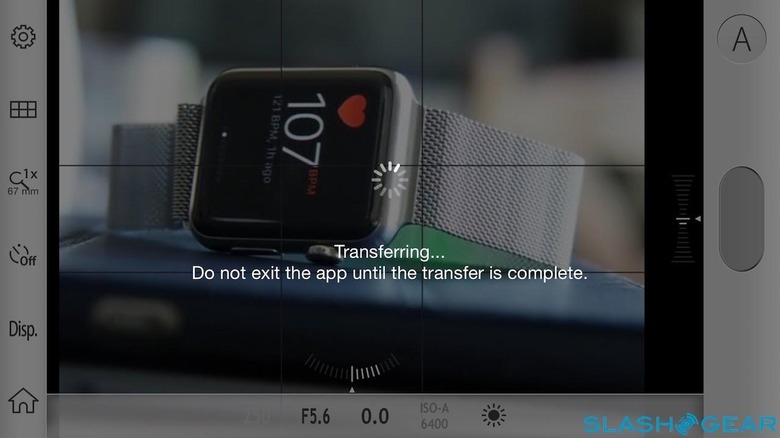 You need some patience if you want to enable the smartphone saving option, or else every ticking second will drive you mad. It's still too soon for me to be definite on how long it takes to save to the iPhone, but let's just say you won't be able to rapidly shoot and then move on like you'd expect to with a regular camera.
Olympus uses a combination of Bluetooth and WiFi to connect and share data between the two devices, but whichever is being opted for it definitely take a noticeable period to transfer images and videos, rather than being instantaneous. It's also frustrating to have to manually connect the iPhone to the Air A01's WiFi when you load the OA.Central app; if you're already connected to another network, you need to open up settings and select the Air's SSID before you're able to start using it.
The Air has support for microSDHC and microSDXC cards including UHS-I types. In theory, with faster memory cards data gets saved faster and you can return to shooting sooner; it's taking between 4-5 seconds to save one image shot at 16MP, while a 45-second video shot at 1080p super-fine quality takes about 5-seconds to save. Files are limited to 2MP (1600x1200) if you opt to save directly to the smartphone.
Olympus Air A01 Hardware
The Air is exceptionally well constructed with a premium feel to it just like a regular Olympus camera, not toy-like at all. At the top, there's a power button, extra large shutter button, stereo microphone, and a status LED. As I mentioned before, the Air can shoot as a standalone device, much like you'd do with a GoPro or an HTC Re camera. The only drawback would be that you can't see or focus on the subject.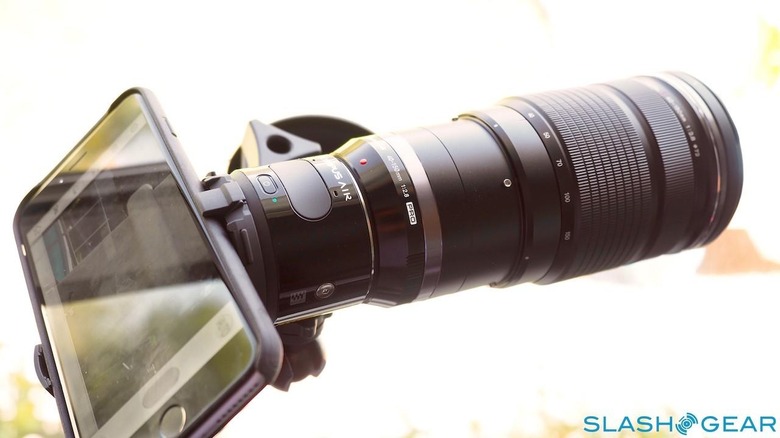 Underneath, there's a standard tripod socket, lens release lever, speaker port, and AIR Coupler accessory release lever. The AIR Coupler is a brilliant, yet dead simple way to attach phones ranging in size from small through to large, like an iPhone 6 plus including a case. The mount angles the phone in landscape orientation at a 45-degree angle as you look down at it. I use an Olloclip OLLOCASE with my iPhone 6 plus, and the rubbery grip really holds it in place: it's secure enough to hold one handed. I did find that, instead of centering the iPhone 6 plus, by moving it to the right by about 3/4-inch I had a better grip and easier access to the on-screen shutter button.
Olympus has one of the best built-in-sensor-shift image stabilization systems, found on the OM-D and PEN cameras, which is why I'm so disappointed that it's omitted – I suspect to save power, weight, and size – from the Air A01. Still, thanks to the standard micro 4/3 mount, you do have the option to use a Panasonic lens with OIS built-in.
If you don't have such a lens, there's at least electronic stabilization during video recording. I tested this with the 14-150 lens, and you can definitely see camera shake for videos shot while handholding the contraption. If you're shooting for fun it's acceptable, but for anything more serious I'd recommend a tripod or monopod to help stabilize things: your audience will thank you for it.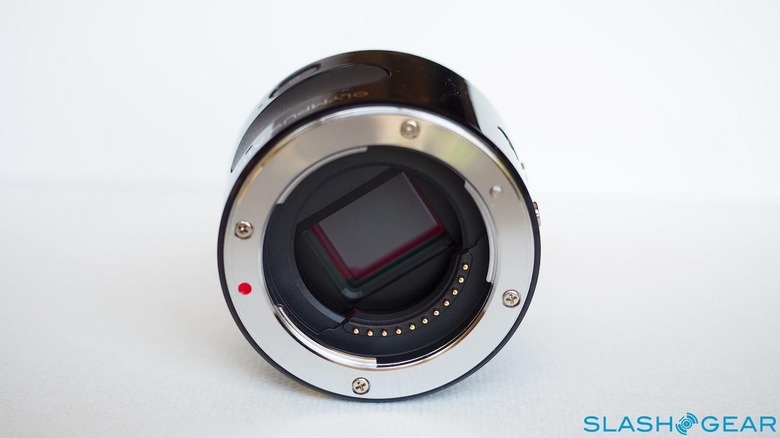 Notable criticisms out the way, now to the juicy stuff. In fact, there's so much to like, starting with the brain that handles all the processing work. TruePic VII, Olympus latest and great micro 4/3' processor, is also used in my current favorite camera – the E-M5 Mark II – as well as the E-M10 and E-PL7. It's paired with a 16MP sensor producing 4608 x 3456 shots in JPEG and 12-bit RAW, and along with the native 4:3 aspect ratio there are 16:9, 1:1, and 3:2 options.
The Air A01 gets an all-electric shutter and a sensitivity range from ISO 200 to 12,800. As for autofocus, there's Olympus' High-speed Imager AF system which uses contrast detection instead of phase detect pixels on the sensor for hybrid AF as on the E-M1. Still, I'm okay with this because the E-M5 Mark II uses the same sensor and I've had great results with it.
Though the Air A01 is capable of shooting up to 10 frames per second at full resolution – up to 23 JPEG frames using normal compression – wait time is going to be 4 to 5 seconds multiplied by 10 frames when you're saving to microSD. Again, you have to be patient. As for video recording, there's no 4k, so I'll settle with Full HD at 1920 x 1080 or HD at 1280 x 720 at 30 frames per second. There are a choice of quality modes, topping out with Fine quality at 24Mbps, then Full HD at 12 Mbps, and finally HD and Normal modes recording at 16 and 8 Mbps respectively.
Out shooting
I haven't had enough time to fully access the image and video quality and the fact that this is a pre-production unit, it's not fair to be hyper-critical just yet. From what I can tell using Olympus lenses, however, image and video quality are right where I'd expect from an E-M10 or E-PL7. Again, more to come on this later down the road, after I've had more shutter time. Alongside that I'll be watching to see if the Air A01's non-removable battery actually lasts up up to 320 shots on a full charge as Olympus suggests.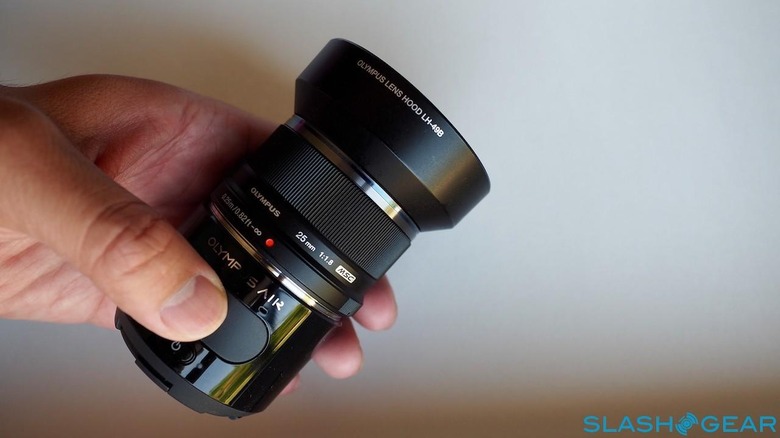 Finally, Olympus has taken an Open Source "hacker friendly" route with the Air A01, with the company telling me it's "actually encouraging" tweaks and tinkering. Enthusiasts can use the provided SDK to come up with new apps and accessories
Overall, my first impression of the Air A01 is that it's not a matter of "need" but "want". Many photographers tempted by it will already have an E-M1 or E-M5 Mark II, so the Air A01 will be their secondary or backup device. In its favor is that the images and videos it captured can so quickly be edited and shared with the world: the 2MP photos shot and saved directly to my iPhone are more than adequate to share to Facebook, Instagram, or Twitter.
The question remains, though: is the Air A01 good enough to justify the additional cost as well as lugging an additional accessory and lenses around? Already I can tell you that, if you need an optical zoom, it is. No matter how good the iPhone, Samsung GS6, or LG G4 might be, there're no match when it comes to real optics and the raw processing power of Olympus' TruePic VII. Whether the rest of the package lives up to that will have to wait for my full review.
Sample Shots