Olloclip 4-in-1 Photo Lens for iPhone 6 and 6 Plus Review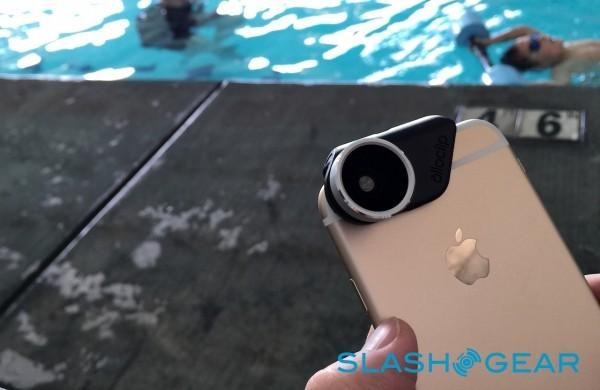 Third-party accessories for iProducts are a dime a dozen, but finding one that's truly worth carrying around and using regular is a rare occurrence. One of the few rare gems happens to be Olloclip's new 4-in-1 lens for the iPhone 6 and iPhone 6 Plus, unique among camera add-ons because it works for the front and rear simultaneously. Portable, with a twist in design allowing you to clip it onto a pendant or keyring, the Olloclip has been hanging from my belt over the past few weeks; read on for my full review.
If you want to extend the capability of the iPhone 6's camera, I much prefer a physical lens to software tweaks. Building on the last generation, the new Olloclip extends to length of the clip to cover the front and rear facing cameras at the same time.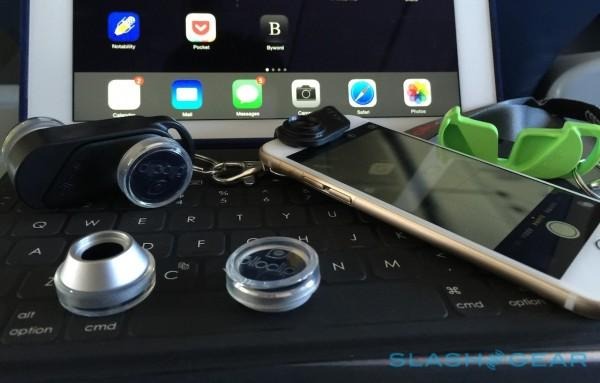 While there may only look like two, in fact there are four lenses built into the clip: the silver wide-angle and fisheye each unscrew to reveal 10x and 15x macro lenses.
Olloclip image quality has always impressed me in the past, and for the most part I've had similar results with this latest model. The wide-angle is a particular improvement: you don't realize how narrow the average phone camera lens is until you compare it to what Olloclip offers. Fisheye, meanwhile, did introduce a little distortion at the very edges, but was still incredibly useful in more confined spaces, like recording video inside cars at the Auto Show.
Macro performance, meanwhile, is surprisingly clear given the non-permanent mount, picking out plenty of detail from subjects. True, the iPhone camera itself has a strong hand in this, but the Olloclip macros are more than just gimmick lenses.
The big problem I always had with the old Olloclip design was how you carried it. Do I toss it in my pocket or my bag, or am I meant to keep it clipped on the iPhone? None of those solutions sounded altogether appealing: the odd circular shape wasn't ideal to carry in your pants pocket, and if you throw it in your bag it'll get lost forever and never get used.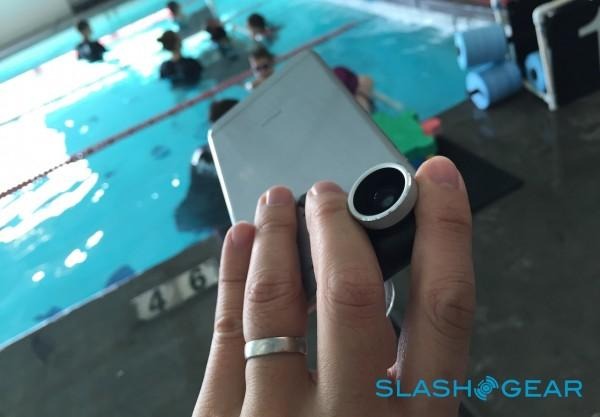 So how did Olloclip address the issue? Simply by giving it a mate to clip on to: a plastic pendant you can attach to the outside of your bag, wear around your neck on the included lanyard, or simply clip it to your belt. Three different colored clips are included.
This worked like a charm for me, as I ran around town both shuttling my kids to school and their activities, and then heading to press events like the LA Auto Show. The lens is out of the way when you don't need it, but it's easily accessible when you do.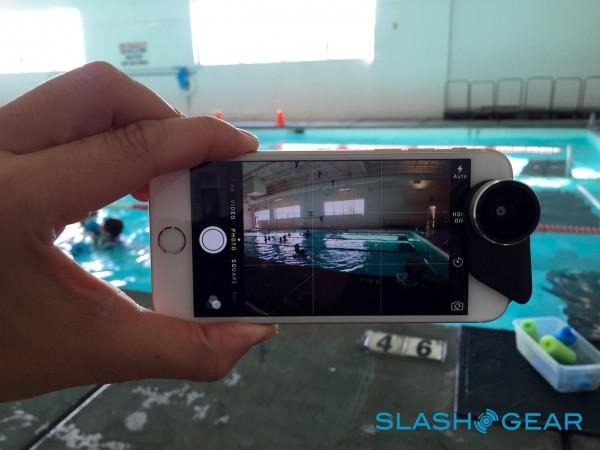 Fit is slightly more straightforward on the iPhone 6, with the iPhone 6 Plus requiring a little shuffling to get the lenses into place. Once on, though, it's super sturdy and you don't have to worry about it coming off. If I had a request it would be slightly more obvious markings to show which lens is which: there's some discrete labeling around the barrel, but when you're trying to quickly snap the Olloclip into place before missing a shot, something eye-catching would be perfect.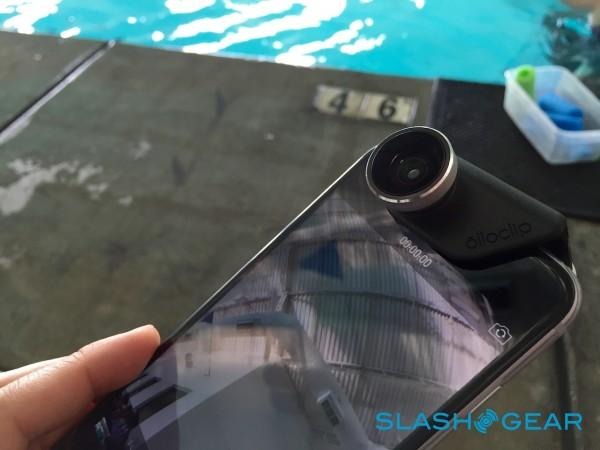 Still, if you decide you're going to carry one accessory with you, and you're into photography, Olloclip is all you need. Great picture quality via the rear facing camera, and taking your selfies to a whole new level, it has excellent build quality, too. At $79.99 in a choice of colors it's $10 more than its predecessor, but for me the flexibility more than makes up for that.