OlliOlli turns Tony Hawk Pro Skater on its side for PS Vita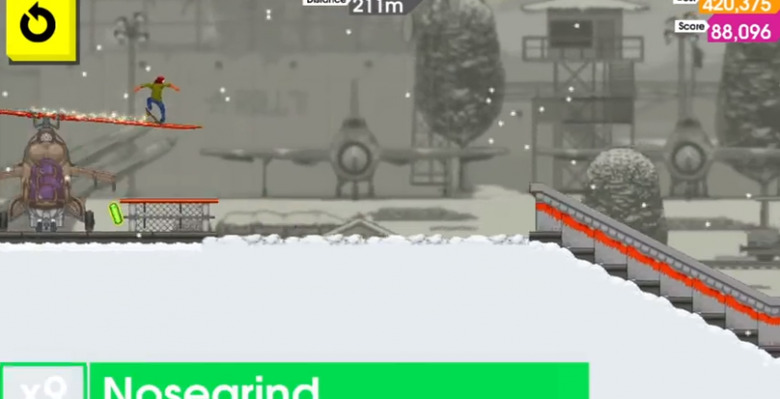 Even if you've not got a PS Vita on which to play the game OlliOlli, you've got to appreciate the next-generation (yet retro) flavor of the title. Here we're seeing a game that brings the skateboarding genre back in a side-scrolling bit of gameplay, ready and willing to make you believe that your two-hundred-dollar handheld gaming device is prepared for the pixels. This game is developed by Roll7 Games and will be released immediately if not soon.
Down the pipe you'll be working with some ever-so-cleverly modified sets of pixels that make you see the simplicity in skateboarding from a sideline perspective – unlike the most popular skateboarding video game series Tony Hawk Pro Skater, that is to say. While the original Excite-Bike only had imagination enough to have motorcycles ride flat, this game has your skateboarding avatar take on every sort of trick, flipping and turning as he (or she) goes.
Inside this game you'll find a whopping 50 levels and 250 challenges, the lot of which you'll need to complete in order to access "RAD Mode" for extra-special radical gameplay – we'll have to wait and see what that means, aside from flashing lights and what we must assume is an extra-large amount of leap-power. Meanwhile the 50 levels includes a career mode with 5 challenges per level, working with Amateur and Pro levels with full "unlocking" action going on for "spots" across the map.
This game will be available from the PS Vita digital store ASAP, rolling out as entirely exclusive release for this platform. Once the game becomes incredibly popular – we must assume it will – we're hoping it'll be pushed over to the likes of the PS4 and other odd platforms as well. We shall see!