Olivetti Olipad 110 Android 3.1 Honeycomb Tablet Get Video Demo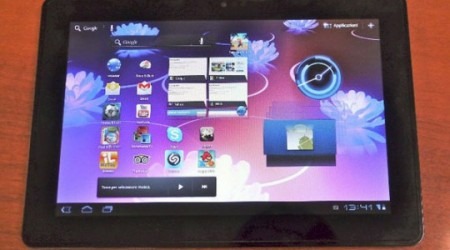 We first talked about Italian company, Olivetti, having plans for an Android tablet all the way back in December of last year. The company has since produced the OliPad 100 that was released with Android 2.2 Froyo and now has a second one called the Olipad 110 with Android 3.1 Honeycomb that's getting ready to launch. A demo video of the Olipad 110 has surfaced recently and you can watch it after the cut, but you'll need some Italian language skills.
The OliPad 110 will feature an NVIDIA Tegra 2 dual-core processor and a 10-inch screen with resolution bumped up to 1280 x 800. It will have 1GB of RAM, 16GB internal storage, as well as a 2-megapixel front-facing camera and a 5-megapixel rear-facing camera. Connectivity will include a micro HDMI-out, a mini USB slot, and a microSD card slot.
The new tablet with Android 3.1 Honeycomb, hardware improvements, and better display resolution is a nice upgrade from the original OliPad 100, touted as Italy's first ever Android tablet. The OliPad 110 is also slightly thinner than the 100, packing in more performance in a sleeker package. It's believed to be set for a July launch with pricing to be around 399 euros or about $549.
[via Android Community]