Olive suitcase is part Segway and part robot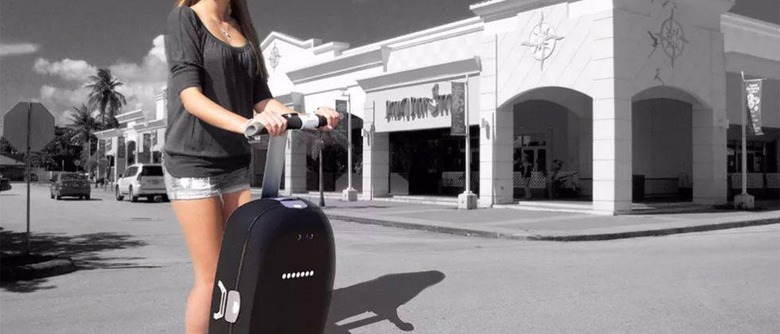 Frequent travelers know that once the excitement of going somewhere wears off, it can be a big hassle to roll your bag through an airport. A company called Ikap Robotics has invented a very cool suitcase that makes it much easier to schlep your bag through an airport or hotel. The bag is called Olive and it looks like a normal suitcase, but it has some interesting autonomous features to help you get around more easily.
One of the features is a self-balancing ride-on that makes the suitcase akin to a Segway that you can use to get around the airport or hotel when you don't feel like walking. If you don't want to ride on the bag for some reason, it also has an integrated stereoscopic camera that allows the bag to schlep itself through the airport.
That camera has a fancy skeleton tracking algorithm that the maker claims is smart enough to identify its owner and follow them closely and autonomously even in a crowded area. Olive also has smart functions that help you stay on time by giving warnings if you are late for a flight. The bag even has an integrated scale to tell you if it weighs too much for carry-on.
Since the bag has an internal battery for all this functionality, you don't have to share a charge port with people on the walls of the terminal, you can plug directly into your bag when needed. Full control over the robotic bag is available through Bluetooth connectivity with a smartphone. The smart functionality also uses Bluetooth to lock or unlock the bag when needed and has an alarm to alert the owner if the bag is disturbed. Currently there is no word on when the suitcase might be available to purchase or how much it might cost, but it doesn't sound cheap.
SOURCE: Gizmag