Olidata Conte super-skinny ultraportable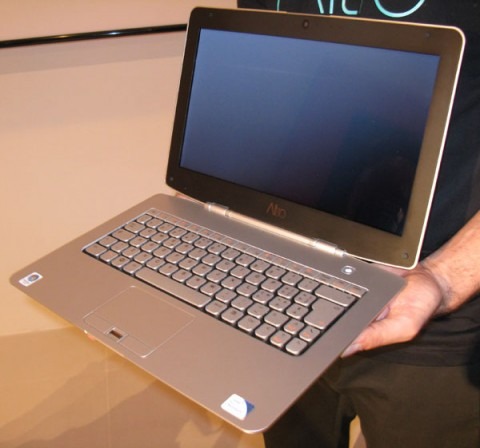 Looks like MSI's X-Slim range of ultraportables is going to get some serious competition, here from Italian manufacturer Olidata and their Conte notebook.  Based on a 13.3-inch LED-backlit display, several versions of the Conte will be offered with CPUs ranging from Intel's SU2700, through the Core Solo SU3500 and Sore 2 Duo SL9400.
Storage is nothing to be sniffed at either, with either 120GB of traditional hard-drive or 128GB of SSD capacity, paired with 3GB of RAM.  Connectivity includes WiFi b/g/n, Bluetooth and an HDMI port, and some models also throw in 3G connectivity.  The trackpad supports multitouch and there's a fingerprint reader sandwiched in-between the buttons. 
Full dimensions are 335.8 x 226.9 x 10-21.8 mm while the Conte tips the scales at just 1.6kg; Olidata have even thrown in an accelerometer to allow the ultraportable to flip between landscape and portrait mode for holding the notebook like a magazine.  Prices start at €799 ($1,129) for the SU2700 model, rising to €899 ($1,270) for the SU3500 with integrated 3G, and finally €1,299 ($1,835) for the top-spec SL9400 with SSD.
[via Engadget]