OLED large-panel lighting prototypes this year, claims Fraunhofer IPMS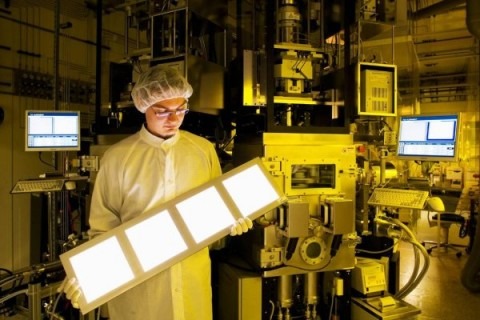 The Fraunhofer IPMS, responsible for OLED development since 2000 and the team behind the Center for Organic Materials and Electronics Devices Dresden (COMEDD), are planning to demonstrate the first roll-to-roll OLED lighting panels this year, as well as developing pico-projectors using OLED panels and touch-controllers using the technology.  Speaking in an interview with OLED-Info, institute director Dr Karl Leo described the group's intent to not only push OLED design but production methods as well.
Leo also confirmed that the Fraunhofer IPMS are working on a large-scale, 1 x 1 meter-square OLED panel, and that currently they are in the process installation phase; he suggests that the first demonstration panel will be unveiled soon.  General lighting solutions using OLED panels will follow on in 2014/2015, he predicts, as production costs are reduced.
Transparent OLED panels are also still being worked on, but Leo believes that OLED lighting is set to be the biggest growth area.  An OLED-based lamp is already on the market, and similar small-scale products will proliferate, he suggests, this year and next.