Official Twitter Client Lands on Android

That didn't take long at all. Twitter has stuck to their word, and have released an official Twitter client for the Android mobile Operating System. But, this isn't just any other application that you can download from the Marketplace. Yes, you can download it from the Market, but we mean it's more than just another app. It's got a certain polish to it, along with some features that we imagine make it's open source nature make all the more sense.
First and foremost, the integration is pretty much as deep as it gets. You'll be able to tweet right from your gallery, so that you can share your pictures with everyone that follows you. Also, it's been set up within Eclair's Quick Contact bar, so selecting the image of your contact will give you the option to tweet to them, instead of texting or emailing them. What's better though, is the widget that can be placed on your homescreen.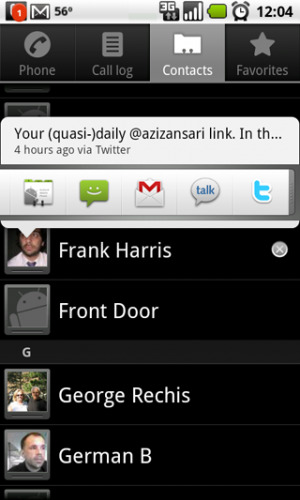 Google and Twitter seemed to have worked pretty closely on this application, and have actually provided the open source trunk code for Android. Developers will also have access to the APIs, so that they can utilize the official application's features in their own applications. That coincides nicely with the other social networking app, Facebook, that is also pre-loaded. If you've got your contacts mingled with your Twitter list, you'll be able to see their updates in your contact list, along with your Google Talk friend's list as well. Bad news though? Android 2.1 (or later), so if you haven't upgraded yet, perhaps now is a good time.
[via Twitter]