Official Galaxy Note 9 accessories priced (and leaked)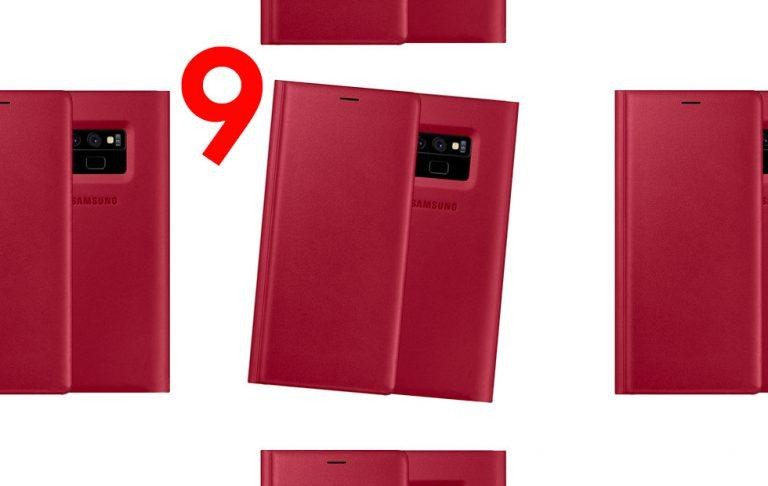 Today we've got a whole bunch of Samsung Galaxy Note 9 details via a set of leaked cases. These cases include both official and non-official sources – but we're going to focus on the official cases first. The official cases come from the folks at MobileFun, a group who seem to have decided it was OK to release all the information about the Samsung Galaxy Note 9 before Samsung. No worries, right?
The first set of cases we're looking at are the Silicone Cover Cases. These cases are the least expensive of the bunch – they'll be priced around $30 USD and will come in Lavender, Blue, Black, and White. They'll cover the back and sides of the device quite simply.
The next cases we're looking at are the Galaxy Note 9 Protective Stand Cover Cases. These cases come in just two sorts, one black, the other grey. These cases will likely cost around $45, and are slightly more heavy duty than the silicone cases. These protective stand cover cases have their own metal flip-out stand that'll allow the Galaxy Note 9 to sit up at around a 45-degree angle portrait-style or at right around an 70-80-degree angle landscape style.
The Official (these are all official, mind you) Samsung Galaxy Note 9 LED View Cover Case will come in Black, Blue, Brown (not pictured), and Lavender. According to the listing, "The LED display details information on your phone's status including current time, calls, messages, battery status, volume to name just a few – viewed quickly and easily from the front of the cover without the need to open the case to view the Note 9's screen directly." This case will cost users a cool $65 USD – or so.
A set of Official Samsung Galaxy Note 9 Leather View Cover Cases will be made available in Brown or Red. Probably other colors too, though we're only able to see these two for now. This "View" cover is different from the others in that it's not immediately apparent how it's meant to allow the user to "view" their screen as do the others.
For now, it would seem that this is basically a flip-cover case without any additional see-through abilities. We'll have to wait until the official event to confirm. This case is set to cost around $60, same as the next set of cases below.
The last set of cases we're looking at today (in the gallery below) is the Official Samsung Galaxy Note 9 Clear View Standing Case. It too will cost around $60 when it's released. This Clear View Standing Case will come in Black, Blue, Brown, and Lavender.
The front of this case is semitransparent so as to allow basic notifications to shine through. This case also acts as a stand, and "Doubles as a mirror when not in use." Weird!
We'll likely see more accessories for the Galaxy Note 9 in the near future. For now we've got the event to look forward to, too. The event will take place on August 9th, 2018, and we'll be here live in-effect bringing you all the details as they drop – with up-close and personal views of the device(s) too!