Official IRS App for iOS and Android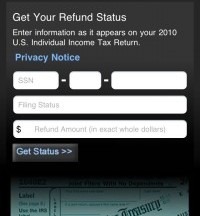 If you're wondering where your tax dollars are going, you can now rest assured that some of it has gone to a mobile app developer. The Internal Revenue Service is now offering an app named IRS2Go that will track your federal tax refund.
To access your information you will have to enter your social security number. Here's how it works from the IRS:
First, taxpayers enter a Social Security number, which is masked and encrypted for security purposes. Next, taxpayers pick the filing status they used on their tax return. Finally, taxpayers enter the amount of the refund they expect from their 2010 tax return.
After the above, you'll be able to access the status of your refund and check it at leisure while on the go. The app should work within 72 hours of receiving confirmation that the IRS received your return.  The app is available for download for both Android and iPhone users.
[Via The OC Register]