Official Android Figurines Series 4 unveiled: Dead Zebra strikes again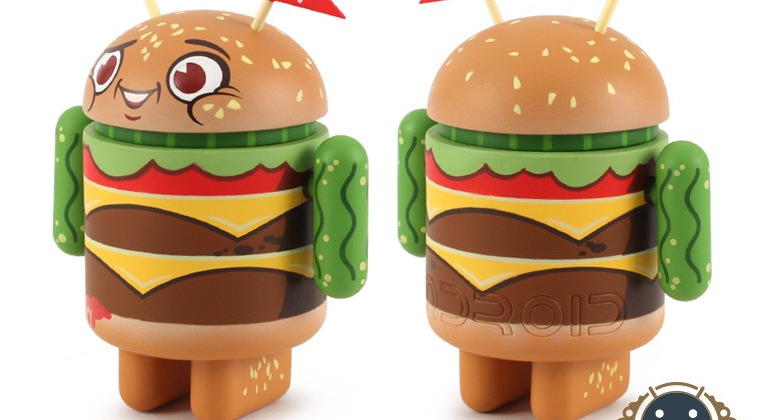 There's no doubt now that the folks at Dead Zebra have a solid combination of style and pop-culture connection on their hands with their officially licensed Android Figurine series. They've been released waves of these guys for several years now, finding their way in to Google device releases (the official first showing of Honeycomb) and international conferences (CES 2012, MWC 2011) alike. They're on their 4th series now, coming in smooth with a caveman, gold, and burger for good measure.
There are a total of 14 new figures out there in this series this time around, with everything from one so simple as a plain-ol yellow o something so complicated as a "Stress Tech" with glasses and a laptop bag from artist Sergio Mancini. Other figures in this set include a Track Star designed by Google, Flipmode baseball player by kaNO, and a Fisherman by Kong Andri.
There's a Dicktator by artist KRONK, Core Dump by Andrew Bell (the originator of the series), the Caveman by Kong Andri, 2x2 (the burger) by Scott Tolleson, Wee Ninja (of the Wee Ninja toys extended series) by Shawnimals, Astronomiton by Andrew Bell, and a shiny GOLD by Google. Does this mean Google will release a gold version of their Nexus smartphone series? Clearly it could mean nothing less.
These beasts will cost a cool $8.50 USD each for a single blind box. This means that you're purchasing them like you'd buy a pack of baseball cards, without knowing what's inside. A full case of 16 Android Figurines costs $132, and there's no absolute guarantee that you'll get a full set in each case. The folks a Dead Zebra will likely be releasing this set in a series of pushes, so do freak out when you see "temporarily sold out!"