Office 365 mobile device management rolls out to paid users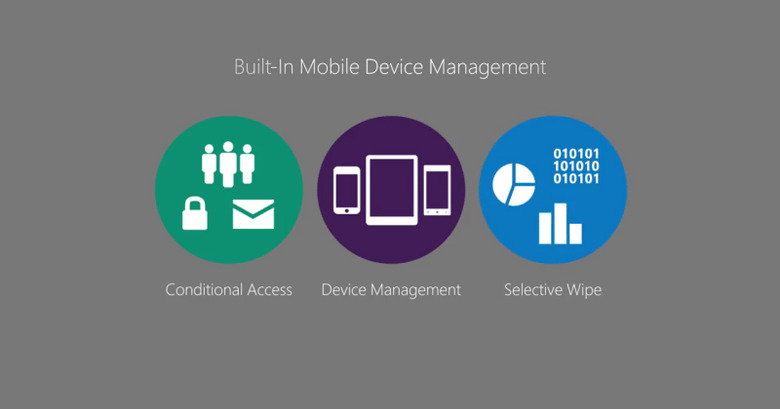 Microsoft is really getting aggressive in reclaiming its lost territory in the office space, especially with the growing number of mobile devices. But while the company is indeed pushing its Office suite to more mobile platforms, that, in turn, has become somewhat of a nightmware for businesses that are trying to keep tight control over their documents and files because of security and privacy reasons. Enter Mobile Device Management or MDM, a system that was born out of the need to rein in and secure mobile devices used at work. And today, Microsoft is making that feature available to Office 365 commercial users.
Office 365 MDM has three main uses. The most common one is Conditional Access, which lets administrators dictate which files can be accessed by which users and devices. MDM requires users, in this case, employees, to enroll their device and ask for approval before they can use it to access corporate email and documents. On the administrator side, bestowing access is made on a per-user basis so that a user can have the same access level on any authorized device he or she owns.
Device Management lets admins set and require per-device PIN codes in order to enhance security. This feature also includes Jailbreak Detection to alert administrators if a device is jailbroken or rooted, which can be used to gain unauthorized access to sensitive files stored on the Office 365 account. Device Management also allows admin to monitor device that try to gain access to files.
Finally, Selective Wipe gives businesses a tool to secure their data when things don't go as planned, either because of loss of a device or when an employee leaves the company. The feature lets admins erase company files on such a device while retaining personal data stored by the user.
Office 365 Mobile Device Management is available to subscribers on all commercial tiers, including Business, Enterprise, EDU, and Government. It covers a wide range of devices and platforms, including any device running iOS 6 or later or Android 4 or later. For those who require even more fine grained control over their employees' devices, like even restricting editing actions like copy, cut, or paste, Microsoft recommends using, and paying for, Microsoft Intune in addition to this.
SOURCE: Microsoft