ODROID Android handheld up for preorder; full release December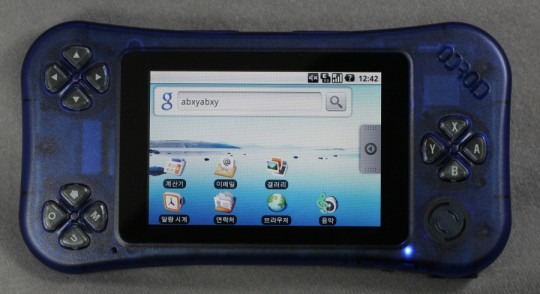 We've been keeping an eye on the ODROID Android-based portable entertainment device over the past few months, and today our source at the company let us know that the developer version is going up for pre-order from today.  Priced at the equivalent of around $320, and with deliveries expected to begin from November 5th, the ODROID developer edition has the same 833MHz Samsung S5PC100 processor as in the iPhone 3GS, 512MB of RAM and a 3.5-inch capacitive touchscreen.
There's no integrated 3G – though there's a USB port that we think you can plug a 3G dongle into – but you do get WiFi b/g, Bluetooth and a mini-HDMI port.  The whole thing runs Android OS 1.5 from a 2GB TFlash card, while an 8GB SD card is also included for user data.  Developers also get a download/charger cable, serial console debugging board and batteries.
It should be interesting to see what coders can produce when they have the same sort of 3D crunching hardware as in the iPhone 3GS; this could perhaps kick-start the "proper" Android gaming market.  According to the company, the consumer version of the ODROID is expected to drop in December this year, priced at $250.