OCZ Z-Drive R4 PCIe SSD Revealed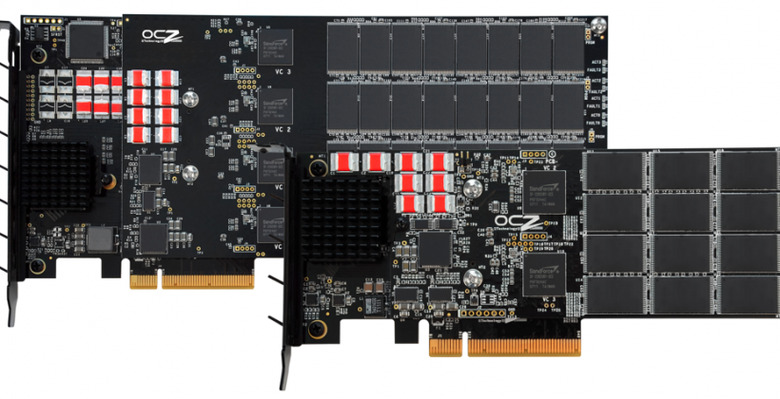 The folks at OCZ have today revealed their latest bit of hardware in the Z-Drive R4, running at 2,800MB/sec, over 500,000 input output operations per second with one SuperScale controller. One as in single. Then there's a dual version at 5,600MB/sec and 1.2 MILLION IOPS. These monsters are not aimed at private users, instead going for enterprise users, thusly the prices are not yet listed. You'll find that these units are available with SLC / MLC NAND flash memory, customer-chosen configurations, and functionality based on the requests of those laying down the bucks.
You'll find that these units retain their predecessors PCIe-based form factor and beyond power choices, will be shipped in two standard configurations: one half height version for space constrained 1U servers and multi-node rack-mount servers and a separate full-height version. OCZ notes that their lovely new Z-Drive R4 is a unique combination of hardware and software solutions tied to integrated VCA 2.0. This VCA 2.0 being a multifaceted virtualization layer works well with full DMA (direct memory access) cores as well as internal PCIe, SAS, and SATA physical interfaces.
VCA 2.0 furthermore enables user-selectable data recovery and non-stop modes with IntegRecover technology that'll keep your mind at ease when working with exactly what this piece of hardware is meant for: enterprise solutions. OCZ VCA 2.0 supports the SCSI command set over a PCIe interface, this being the industry-standard, and other features include consoledted SMART support, TRIM/SCSI Unmap support, and increased NAND flash life due to OCZ's lower write amplification and the TRIM/SCSI Unmap support again.
SO! Go out there and grab em up!