OCZ shows off Alchemy Illuminati upscale keyboard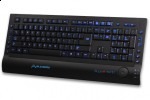 PC users are probably more familiar with OCZ performance components inside a PC tower than peripherals like a keyboard, but they do have gaming peripherals lineup named Alchemy, and today they have announced a new upscale keyboard, Alchemy Illuminati that features an adjustable backlit keys with user-selected color choices of blue and red.
Aside from the illuminating keyboards in the dark, the Alchemy Illuminati also features 14 multimedia and Internet hotkeys, and is completely plug-n-play with windows XP and Vista but as usual, it shows no love for OSX.
The board measures 215mm x 495mm x 30mm and weights only 850g. The rubber-coated keys are designed to improve tactile feedback and its durable outfit are said to have reliable life span of 5 millions cycles. Other than that, OCZ has not released pricing or product availability on the Illuminati.