OCZ Neutrino DIY 10-inch netbook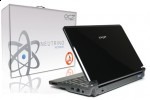 OCZ have announced a DIY netbook, the chassis of a 10-inch WSVGA netbook with a 1.6GHz Intel N270 processor, into which the buyer adds RAM, storage and an optional card reader.  The OCZ Neutrino netbook supports up to 2GB of DDR2 RAM and either a traditional 2.5-inch hard-drive or an SSD.
HDDs up to 250GB and running at 5,400rpm are supported, while SSDs between 30GB and 250GB can be selected.  There's also an optional 4-in-1 card reader.  As standard you get a 1.3-megapixel webcam, WiFi, PCI-Express slot, two USB 2.0 ports and a VGA output capable of driving external displays up to 1600 x 1200 resolution.
There's also a 4-cell 2,200mAh battery.  The OCZ Neutrino DIY netbook should be available in mid-April, priced at $269. 
[via EeePC.de]