OCZ launches 150x Gold Series SDHC storage cards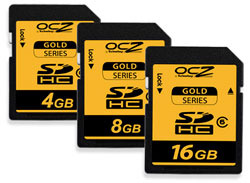 Memory and Storage maker OCZ has announced its new line of Gold series SDHC (Secure Digital High-Capacity) storage cards. Designed for serious professionals and videographers, these cards will be available in 4, 8 and 16GB capacities with 150X class 6 speed. That standard translates OCZ Gold series SDHC card's with speed of maximum transfer rates up to 22.5MB/s and a minimum transfer speed of at least 6 MB/s in real world scenario.
As usual, OCZ rarely releases pricing information or specific launch date for its product release. The Gold series SHDC cards will carry manufacturer lifetime warranty and free technical support.