OCZ extends power supply range with kilowatt Fatal1ty PSU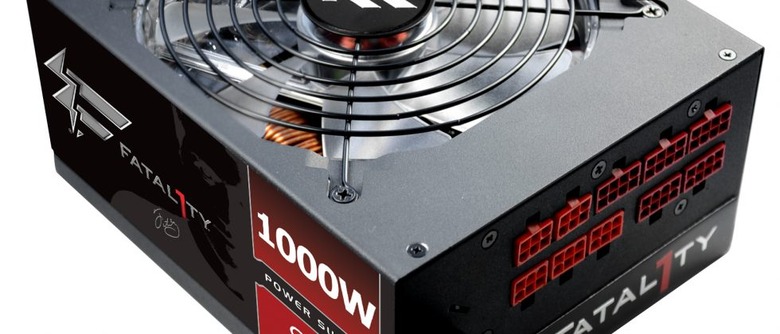 Desktop gaming computers are getting more over-the-top every year, and with triple and quadruple SLI and Crossfire X motherboards now on the market, those who need the absolute maximum in performance also need a ton of power with which to achieve it. Enter OCZ's latest power supply, the 1000W Fatal1ty PSU. It's not the first kilowatt power supply around, but it is the first to feature the branding of pro gamer Johnathan "Fatal1ty" Wendel – an instant way to make PC gamers sit up and take notice.
System builders may (or may not) respect the name, but what they live and breathe is specifications. First of all, it uses the modular cabling system that neat freaks (like yours truly) can't live without, allowing users to add and subtract power rails as necessary. Connections include a single +12v rail, one 20+4 pin for the ATX standard, two  4+$ rails, six 6+2 rails, 8 4-pin rails and 12 5-pin SATA rails. Even with the largest and most capable of rigs, it's hard to imagine someone exhausting that many options.
Other features include 100% Japanese capacitors, a 140mm cooling fan, and a 5-year warranty. OCZ claims that it can maintain consistent 1000-watt output at a temperature of 50 degrees Celsius. While some gamers find the Fatal1ty branding to be somewhat overblown, it's hard to argue with the numbers that OCZ is pushing out. Prospective PC builders, don't reach for the highest option right away – unless you're doing som major overclocking on three or more GPUs, plus a handful of hard drives and PCIe accessories, odds are you can do just fine with something a little less powerful.  There are a couple numbers that are missing at the moment: a price and a date.