Oculus Rift finally gets the reaction virtual reality always wanted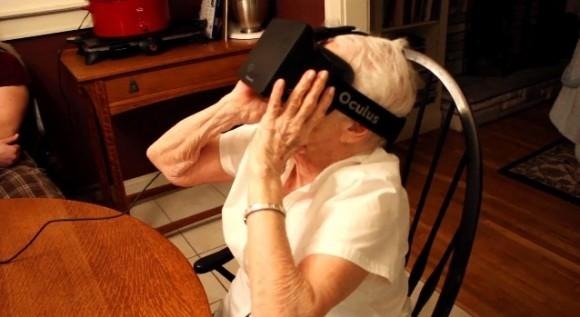 We've already heard plenty about the Oculus Rift virtual reality headset, and while we youngsters are pretty amazed by the technology, nobody has their mind blown more than the elderly, who could only dream about such technology back in their younger days. Recently, a 90-year-old grandmother ended up trying out the Oculus Rift for herself, and she was quite amazed.
Imagimind Studio developer Paul Rivot ended up grabbing an Oculus Rift in order to play around with it and develop some games, but he took a break from that and decided to give his grandmother a little treat, by strapping the Oculus Rift to her head in order to experience a bit of virtual reality herself.
The video is quite entertaining to watch, and we can't imagine what's going on inside of her head, knowing that she never grew up with such technology as the Oculus Rift, let alone 3D video games. She even gets to the point where she thought the images being displayed were actual images taken on-location, when in fact it's all 3D-rendered on a computer.
Currently, the Oculus Rift is out in the wild for developers only at this point, and there's no announced release date for the device, although the company has noted that it should arrive to the general public before the 2014 holiday season. In the meantime, it's videos like this that only excite us even more.