Oculus Quest nabs Beat Saber as a launch title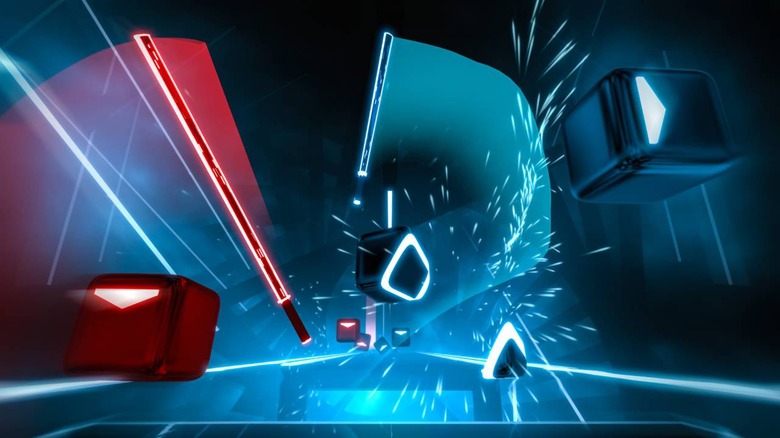 Last year, Facebook revealed the Oculus Quest, a new standalone VR headset that falls somewhere between the Oculus Go and Oculus Rift. Essentially, the Quest is Oculus's attempt to take standalone VR to the next level after introducing an entry-level standalone headset in the Go. Today, Oculus is celebrating a pretty major win, as it announced at GDC that Beat Saber has been secured as a launch title for the Oculus Quest.
Most gaming enthusiasts probably know all about Beat Saber already. As one of the most popular virtual reality games around, Beat Saber is a hard game to avoid. If you've yet to play it but are planning on picking up an Oculus Quest when it launches later this year, it sounds like you've got at least one day-one purchase sorted out.
A headset like the Oculus Quest seems like it'll be a pretty good fit for Beat Saber, too. The rhythm game has you slicing incoming blocks with each hand as you dodge barricades that portion off part of the track, so you move around a fair bit while playing. The fact that it's already sold one million copies means that plenty of people have played it using tethered headsets, but Oculus Quest's standalone design mean that you'll have that much more freedom while playing.
We still don't know when, exactly, the Oculus Quest is going to launch. So far, Oculus has only given the Quest a vague "spring 2019" release window, offering up nothing more specific. Maybe now that we're talking about launch titles, that means an actual release date can't be too far off?
Despite not knowing anything specific about release, we do know how much Oculus Quest is going to cost: $399. That makes it $50 more expensive than the Oculus Rift and $200 more expensive than the basic 32GB Oculus Go, though it's worth pointing out that the Oculus Rift also needs a relatively beefy PC in order to run, which inflates the cost beyond that initial $350. We'll keep our fingers crossed for an update on the Oculus Quest's release date, so stay tuned.