Oculus Link, Passthrough+ head to Oculus Quest this year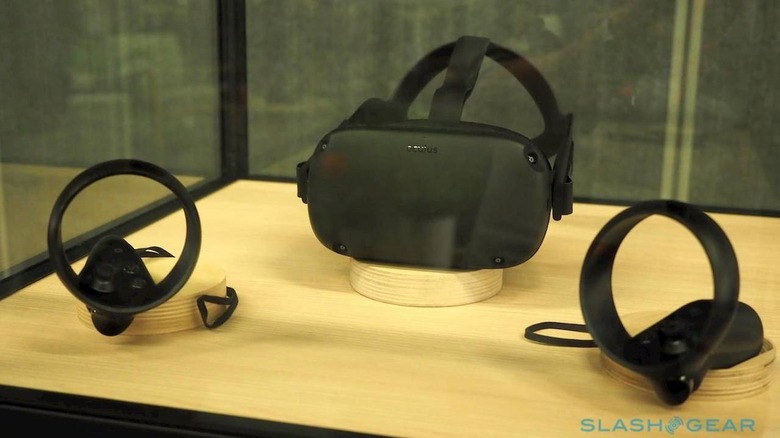 Today, Facebook took the stage at Oculus Connect 6 and made some big announcements about Oculus Quest. The biggest was unquestionably Quest's incoming hand tracking mode, but it's being joined by plenty of other new features in the coming months. One that's sure to get some attention from the Quest-owning public is a new feature called Oculus Link.
With Oculus Link, you can essentially turn your Quest headset into an Oculus Rift by connecting your headset to your PC using a USB 3.0 cable. "Starting this November, anyone who owns a Quest and a gaming PC will have access to popular Rift games with Oculus Link software," Oculus said today, suggesting that not all of the titles that are available on Rift will be compatible with Quest as well.
Of course, you also need a gaming PC to make this work, which a fair number of Quest users may not have given the headset's standalone design. Facebook says that it will be releasing a "premium optical fiber cable" of its own, but on stage today, Mark Zuckerberg said that it isn't required to use Oculus Link. This could also be a benefit for developers, as it could help expand the audience for their games.
In addition to getting Rift content by way of Oculus Link, the Quest will also soon be compatible with some Oculus Go apps. Next week, Oculus will make around 50 Go apps compatible with Quest, and if you happen to own a Go app that also has a Quest version, you'll be able to download the Quest version for free until the end of the year.
We'll also be seeing Passthrough+ – an Oculus Rift S feature – make its way to Oculus Quest later this year. With Passthrough+, you'll be able to look through your Quest's external cameras to see what's going on around you, allowing you to check in on the real world without having to first take the headset off. The on demand version of Passthrough+ for Quest will be launching before the year is out, but Facebook didn't say when specifically that'll be happening.
Finally, Oculus will be making it easier to watch TV shows and movies on the Quest by allowing it to be used in dark locations where inside-out tracking won't work. Basically, this means that you'll be able to turn off tracking so you can view content in a dark room, but that means that Guardian boundaries and some apps won't work while tracking is off. Oculus warns that this new feature should only be used while stationary, and that seems like a fair warning.