Occipital Finds Augmented Reality Capabilities Within Mobile Safari For iOS 4.2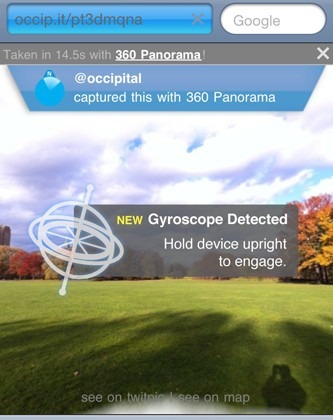 With iOS 4.2 still fresh in the market, and on iDevices, there's no surprise that people are still stumbling onto new aspects of the latest version of Apple's popular mobile Operating System. And while Augmented Reality may not be the one feature that's on the tip of everyone's tongue, it's still interesting to see new ways that the technology can be implemented in our devices. Thanks to a company called Occipital, we now know that the gyroscope within the latest version of the iPhone, as well as the newest model of iPod Touch, can be used to bring some AR-based fun times.
Occipital has recently developed a panoramic photo application for the iPhone, and in their development process, stumbled on the feature they didn't know could be accessed. The company has set up a demo that anyone with the right hardware (iPhone 4, latest generation iPod Touch), and iOS 4.2 installed, can enjoy right from within their browser. Just head through this link with your iOS-based mobile Safari browser, and have at it. Thanks to the gyroscope and panoramic photography with the application, you'll be having some Augmented Reality fun in no time, right from within the browser.
[via BGR]