O2 Germany list Samsung Galaxy Tab for €759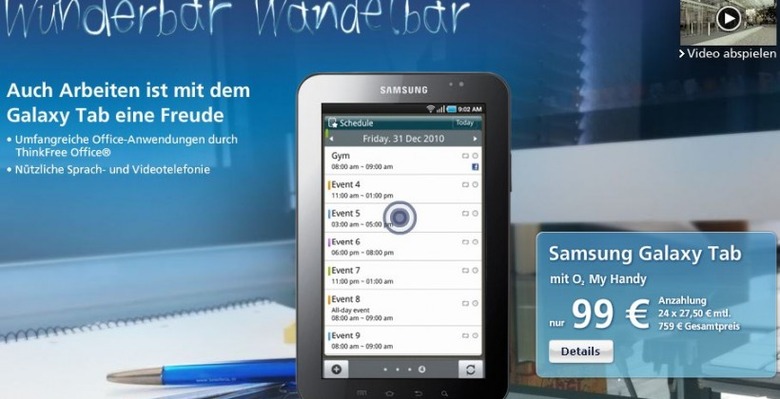 Samsung has been pretty coy with official pricing for the Galaxy Tab so far, but O2 Germany has become one of the first carriers to spill the beans on a solid figure.  The carrier is offering the 7-inch Android slate through their My Handy payment plan, a way to spread the cost of the device over – in this case – a 24-month period without actually getting a network subsidy.  Unfortunately, early fears were correct: O2 Germany are asking for €759 ($1,047) overall for the Galaxy Tab.
The carrier is asking for an initial €99 deposit, after which you're tied into 24 monthly payments of €27.50 each.  It's worth noting that those figures don't actually include any wireless service, so if you want to take advantage of the Galaxy Tab's 3G/UMTS voice or data abilities you'll have to either sign up to a separate plan or slot in a pre-paid SIM.  O2 Germany reckon the Galaxy Tab will arrive later this month.
[via Android Community]