Orange UK jumped the gun on Friday and announced their iPad WiFi + 3G data plans – in fact their pre-registration page went live today – but details from rival carriers O2 and Vodafone have only been confirmed this morning.  Apple's preorder page for the iPad WiFi + 3G confirms that O2's daily plan is better value than Orange's (£2 for 500MB, versus £2 for 200MB) while Vodafone are concentrating solely on monthly packages.  Full details after the cut.
As well as the daily option, O2 offer 1GB of mobile data per month for £10 or 3GB for £15 (the latter being the same as Orange's plan).  Meanwhile Vodafone UK more closely follow AT&T's iPad 3G plans in the US, offering 250MB per month for £10 or 5GB (not unlimited) per month for £25.
A MicroSIM card for one of the three carriers can be added to an iPad WiFi + 3G pre-order for £0.20.  Interestingly, while with Orange and Vodafone users have to call the carrier to pick a data plan and start their 3G service, those with an O2 MicroSIM can select the data plan from the iPad itself, and needn't call the carrier at all.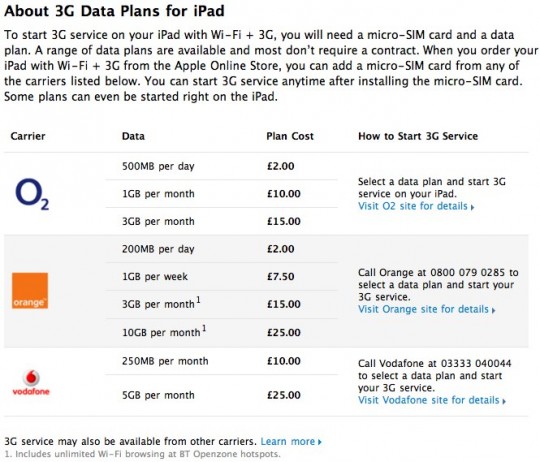 [Thanks Ian!]