NZXT unveiled Panzerbox, performance LAN case with optimized airflow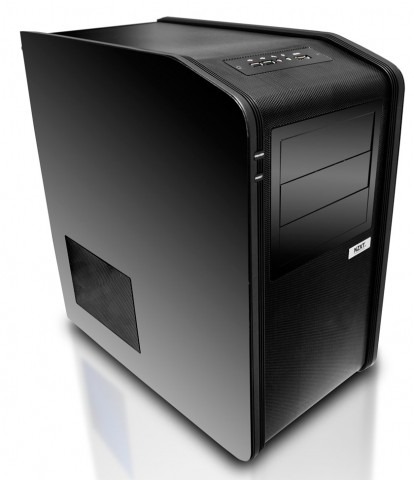 Team NZXT is at it again, unveiling another remarkable gaming chassis today with best-in class airflow. The pure aluminum Panzerbox has the capacity and power of a full-size tower, but weights only 6.3 kilos/14 pounds in a much compact mid-size tower with dimensions of 244 x 445 x 445 mm. Essentially, a performance LAN case that's lightweight and small enough for traveling to community LAN party!
Most LAN cases lack airflow due to inadequate space, but not the Panzerbox. Inside the all black interior, there are two oversized 190mm and one 120mm fans that churn out a combined 300 Cubic Feet per Minute air flow, along with oversized heatsinks to optimize component cooling. Motherboard tray is removable, conveniently designed for much easy installation, and storage option is available from three external 5.25 inch and four internal 3.5 inch drive bays. A top-mount external I/O panel offers connectivity from USB, Audio to e-SATA ports.
The new NZXT Panzerbox Lan case is slated to ship next month for a suggested retail price of $120. More detail of the product is listed here.