NZXT Releases the Khaos Gaming Chassis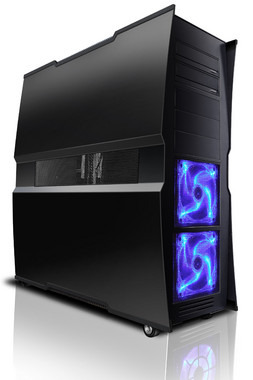 If you're in the market for a new case for your gaming rig, you might want to look for something that stands out a little. I mean, if you're going to spend the money on it, why would you want something that looks just like everyone else's? Well, I would give some serious though to the new Khaos from NZXT.
If you're just running a basic PC, you might  look for something a little more conservative than this. However, if you've got a top-of-the-line rig and are looking for the best, the Khaos has it all. For cooling you're going to have dual 120mm fans situated in front of 8HDD bays and a trio of the same fans over your mother board and graphics card(s).
You'll have room for everything with 11 5.25-inch bays and dual power supply support. The extra PSU will help to balance power consumption between your major components, resulting in a more reliable experience. The case will even include a special cable to make sure you get the most from your second supply.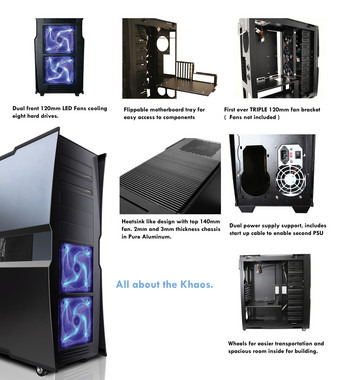 The entire case is comprised of 2mm and 3mm this aluminum, which provides a sleek and solid look. You'll also find rubber finished wheels and a handle in the back for easy carrying. You'll have to dish out $399 for this awesome case, but if you've got the goods to put in it, you'll no doubt be pleased with what it has to offer.