NZXT announces the Guardian 921 Gaming Chassis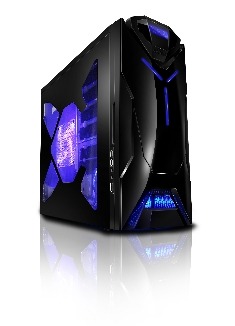 I've always thought of a person's PC case as something of form of self-expression. Often you can find a bit out about the person, and the PC simply by looking at their case. If a person isn't big into gaming or performance, they will generally have a stock case, or a plain ATX chassis. PC gamers will generally go for a case with plenty of cooling, and a specific look that suits them. The new Guardian 921 from NZXT definitely lets everyone know that you're a gamer.
The chassis looks sleek with just the right amount of curves, angles and blue lighting effects to look awesome, without overdoing it. It is crafted from .88mm/1.00mm steel and has a spacious interior for installing a variety of drives and larger video cards. You'll also find a slew of peripheral connectors which always come in handy. You'll be able to monitor your system temperature with three different temp probes, while three large 120mm fans keep things cool and quiet.
The new Guardian 921 is perfect for gamers who want a case that's not only going to perform, but look good too. The price is just right at $89 when it goes on sale later this month.