Nymi Band testing heartbeat-authenticated mobile payments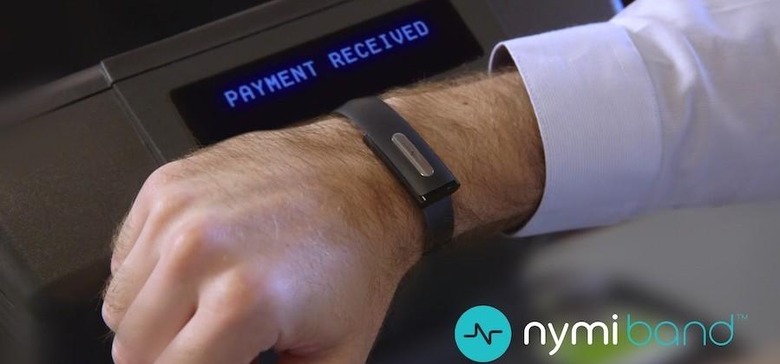 With Apple Pay gaining popularity, and more mobile payment systems like Android Pay and Samsung Pay in the pipeline, fingerprint authentication is quickly becoming the new security standard when it comes to making payments without a credit card. But the Nymi Band is testing something said to be even more secure than fingerprints: heartbeat authentication. The band uses a sensor to track and identify the electrical activity in the owner's heart, a biometric that can't be copied or stolen.
The Nymi Band was first unveiled back in 2013, touting its heartbeat scanning and motion detection as ways of replacing everything from keys and remote controls to payment cards. You can see the vision for the wearable in the announcement video below.
The device is currently being used in a trial in Canada for those with MasterCards and use TD Bank Group, with more banks gaining support soon. As each wearer's electrical activity is unique, the band will only work with the authenticated owner. Mobile payments are made through NFC, and the band can be used at Canadian retailers that support MasterCard's PayPass.
Unfortunately it doesn't seem this version of the Nymi Band coming to consumers anytime soon. It's currently only available in a $150 developer kit, and that model doesn't include the NFC chip needed for payments. The one currently in testing is specifically issued from Nymi and the partnering bank, with the user's payment information even pre-loaded.
But if heartbeat authentication turns out to be successful, it's more than likely the feature will begin showing up in future smartwatches. Especially since the advanced once already have, or will have, the needed sensors.
VIA Gizmodo
SOURCE Nymi