NYC phone booths to be replaced by smart screens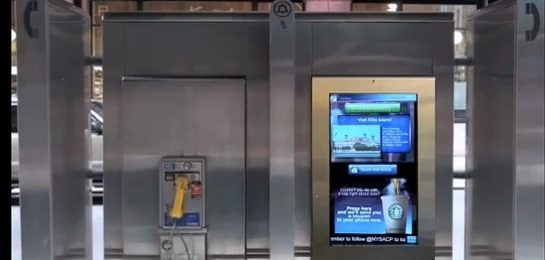 New York City will soon be retrofitting its phone booths into "smart screen" stations. The pilot program will start by replacing 250 public pay phones with 32-inch touchscreens that are connected to the internet. The aim is to eventually replace all 12,800 of the city's phone booths once the franchise contracts for the pay phones with the city expire in October 2014.
The large touchscreens will display information on the local neighborhood, including nearby landmarks and restaurants, traffic updates, store sales, and safety alerts. They will also serve as WiFi hotspots and allow users to make Skype calls and log into their emails. However, users will not be able to surf the web.
The smart screens will generate revenue from advertising and will be offered by City24x7 for free to the city, which will get a 36 percent ad revenue split once the pilot program ends. It's not clear how much, if any, users must pay in order to use the new smart screens.
For those concerned about sanitation, City24x7 promises that the stations will be much cleaner than ATMs because they are waterproof, dust-proof, and thus can be cleaned with a jet hose.
[via CNET]