NYC Gets New Nissan NV200 Prototype Taxi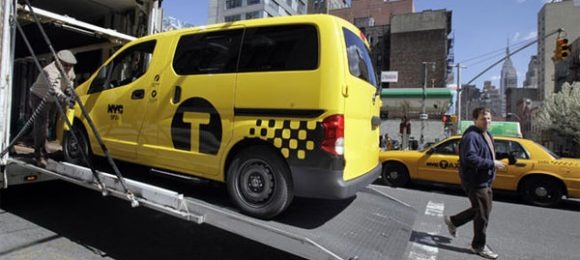 Having never visited New York City, I'm not particularly familiar with the city's fleet of taxicabs. Judging by the fact that the city's new traditional taxicab replacement, the Nissan NV200, boasts among it's interesting features germ fighting seems to cut down on bad odors, the average taxi must be a smelly place. The image here is a shot of the prototype Nissan NV200 being unloaded in New York City.
The new taxes will be hitting the streets of the city next year packed with rider conveniences such as charging ports for smartphones, big skylights for looking at skyscrapers, and more. Nissan got the nod in a competition to replace traditional taxis in the city over two other finalists. The NV200 looks like a small minivan and has a flat floor to make it easy for passengers to slide from one side to the other.
Notable differences of the new taxis include the use of a brighter yellow color, and the taxis will have low-annoyance horns, whatever that means. Other notable features of the Nissan taxi include slide open doors reducing the risk of hitting someone riding or walking by and the doors open wider. The new taxis will be phased in starting in October 2013 and all the cities taxis, including hybrids, will be off the streets by 2018. Each new taxi will sell for about $29,000.
[via NBC New York]