NYC and San Francisco Bay Area get Google Offers beta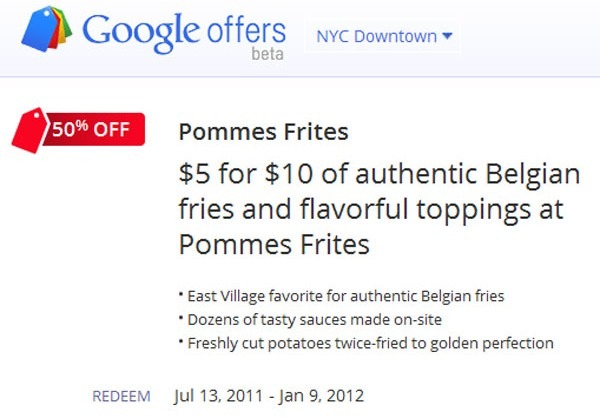 If you live in NYC or the Bay area and are a big fan of local eateries and deals, you can now sign up for the beta version of Google Offers for your area. The roll out of the service to the two new areas is part of the bi-coastal launch of the Google Offers service. You can sign up at Google.com/offers for the service in your area or get the Android app.
The Android app will launch later today and is called Google Shopper 2.0. The app is interesting and supports the service on Android phones. Using the app the subscriber can view, purchase, and redeem the offer of the day right from their smartphone. There are a number of offers right now in the Bay Area and New York for food and drinks.
The app will also allow the user to view Offers for areas near them. That Nearby Offers tab should also be cool when you are traveling and looking for a special deal to enjoy. Google has also tipped the next cities that will see Google Offers support. The cities include Austin, Boston, Denver, Seattle and Washington, D.C.
[via Android Community]