NXP QorIQ LS1012A 64-Bit ARM Processor Is Smaller Than A Thumbtack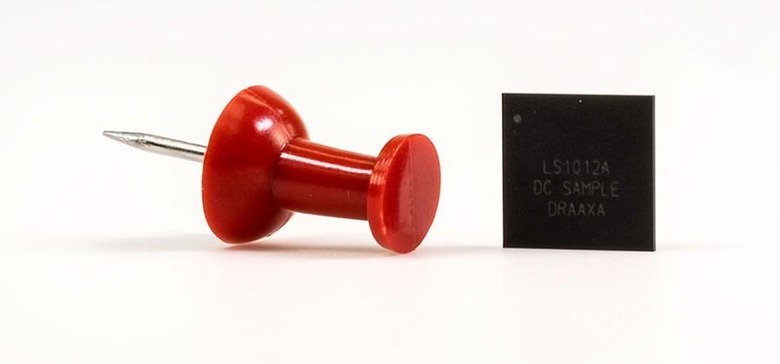 NXP Semiconductors has rolled out the QorIQ LS1012A processor promising enterprise-class performance and security for consumer and networking applications in a very small package size. The chip has a 64-bit ARM v8 processor with network packet acceleration and QorIQ trust architecture security capability and line-rate networking performance at 1W of power. The chip packs all its features into a tiny 9.6mm x 9.6mm package size.
The chip is aimed at products that run on batteries, but need line-rate networking capability. The products that could benefit from the new chip include IoT gateways, portable entertainment devices, portable storage devices, and more. This is also the first processor designed specifically for object-based storage. Object-based storage uses an intelligent hard drive connected to the data center Ethernet network and the LS1012A can be directly connected enabling something known as an "Ethernet Drive."
"The groundbreaking combination of low power, tiny footprint and networking-grade performance of NXP's LS1012 processor is ideal for consumer, networking and Internet of Things applications alike, including comprehensive IoT Gateway solutions which integrate low power 64-bit ARM based processors together with BLE, ZigBee® & Thread wireless technologies," said Tareq Bustami, senior vice president and general manager of NXP's Digital Networking business. "This unique blend of capabilities unleashes embedded systems designers and developers to imagine and create radically innovative end-products across a broad spectrum of high-growth markets."
The new chip combines a low-power 2Gbps packet crypto accelerator with a power-efficient 64-bit ARM Cortex A53 core. It has support for dual 2.5 Gigabit Ethernet, PCIe, SATA3, and USB 3.0 with integrated PHY. NXP says that the product is the only 1W, 64-bit processor on the market to combine those features. The packaging of the chip also allows it to be routed on cheaper 4-layer PCBs. The LS1012A will be available on April 2016 and can be ordered now.
SOURCE: NXP