NVIDIA's new Pegasus wants the keys to your Level 5 autonomous car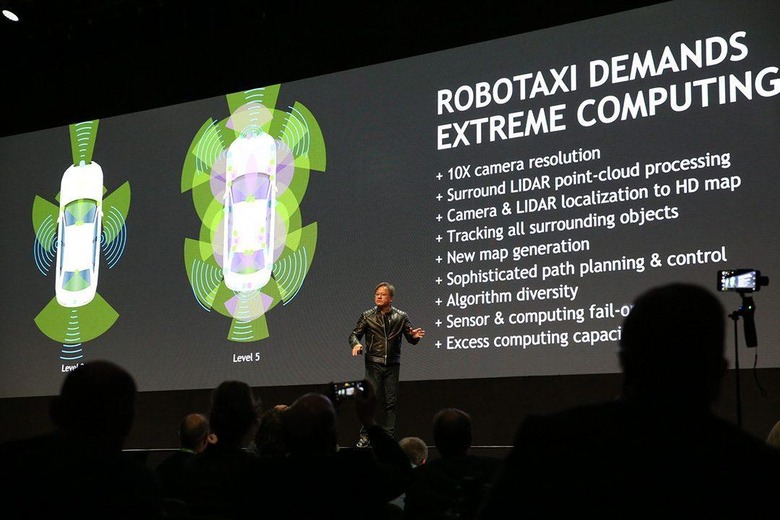 Though development on self-driving vehicles seems to be proceeding nicely at a number of different companies, the end goal of creating level 5 autonomous vehicles is still quite a ways off. Prototypes for cars that feature level 5 autonomy already exist, but the amount of computing power those cars need to carry out their tasks is immense, resulting in heavy, power hungry systems. NVIDIA wants to help with that, introducing its third-generation Drive PX platform at GTC Europe 2017 today.
The next entry in the Drive PX line is codenamed Pegasus, and it represents a huge increase in power over current Drive PX hardware. Though Pegasus is only about the size of a license plate, it's capable of doling out 320 trillion operations per second. That's a huge jump in capability over second-generation Drive PX computers, and it should be enough to enable NVIDIA partners to begin developing and testing algorithms for level 5 autonomous vehicles.
Make no mistake: level 5 is still a long way off, but Pegasus is aimed at bridging the gap between current technology and what's needed to make level 5 a reality. While the systems in current level 5 prototypes are heavy both in weight and power consumption – thereby decreasing overall range – Pegasus is neither. Keep in mind, a level 5 autonomous vehicle is capable of navigating roadways entirely on its own, with no input from the driver at all.
Long before we get to consumer autonomous cars, though, Pegasus will have an important application in Robotaxis. NVIDIA said that many of its 25 current Pegasus partners are using the tech to create Robotaxis, including Deutsche Post DHL. NVIDIA announced today that Deutsche Post DHL will begin using Drive PX technology in a fleet of autonomous delivery trucks rolling out sometime next year.
Pegasus is slated for a mid-2018 release as well, so it'll be a while before we begin seeing it pop up in level 5 prototypes. While it's going to be a long while before those prototypes lead to consumer-level cars, Pegasus should help manufacturers test algorithms on hardware that doesn't take up so much space or eat so much battery. For a company concerned about total range, that should music to the ears.
SOURCE: NVIDIA