NVIDIA unveils low profile Quadro NVS 420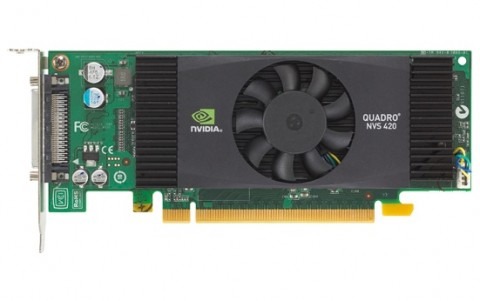 NVIDIA has today unveiled the industry's first low-profile professional graphic card, shrinking their Quadro series GPU fitting for a small form factor computer, with the introduction of a quad-display capable Quadro NVS 420.
The upcoming Quadro, according to NVIDIA, is designed for business class user seeking out a high performance graphic solution in a space challenged workstation. The GPU boasts 512MB of graphic memory, 128-bit precision pipeline with memory bandwidth runs up to 11.2GB/s at a mere 40 watts power consumption. It features Nvidia's Cuda parallel computing processor; supports DirectX 10, OpenGL, and can output as high as 2560x1600 resolution images up to four 30-inch displays.
The Quadro NVS 420 comes standard with digital connectivity of a dual Link DVI and displayPort connections. It will be available next month with a suggested retail price at $499.