NVIDIA Studio brings RTX laptops to designers and creators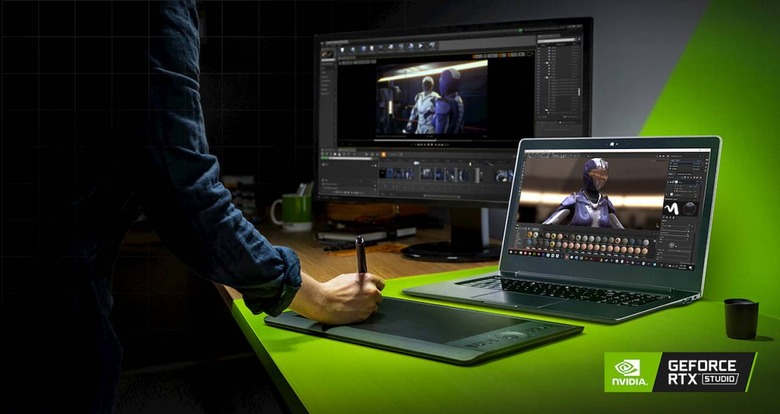 NVIDIA's still relatively new RTX graphics cards definitely have some advantages for high-end PC gamers, but gamers aren't the only ones who can benefit from a bump up in graphics power. Today at Computex, NVIDIA announced the NVIDIA Studio program, which will see it teaming with various manufacturing partners to produce a line of laptops based around these high-end RTX cards.
There are already a number of laptops that are home to RTX series cards, but these ones will be aimed at designers and content creators specifically. They'll be branded with "RTX Studio" badges at retail to make them stand out from gaming-focused RTX laptops, and given their high-end GPUs, will likely be solid choices for video creation, streaming, and rendering.
Still, existing gaming laptops with RTX cards are already capable of all that stuff, so what's the difference between those and these RTX Studio laptops if hardware configurations are mostly the same (or at least similar)? The main difference, it seems, lies in NVIDIA's Studio drivers. Like NVIDIA's game-ready drivers, which often include optimizations for specific games, NVIDIA's Studio drivers will feature optimizations for a range of creative apps from companies like Adobe, Autodesk, Avid, Blackmagic Design, Epic, Maxon, and Unity.
The first NVIDIA Studio driver is available today, before any of these Studio laptops are on shelves. This first NVIDIA Studio driver includes optimizations for a few different programs, including Maya 2019 and 3ds Max 2020 from Autodesk, Blackmagic Design's DaVinci Resolve 16, and Daz3D's Daz Studio. NVIDIA will issue updates for Studio drivers as the associated creative programs receive updates, just as it does with its game-ready drivers.
There's also the NVIDIA Studio Stack, which is comprised of the Studio Drivers for end users and Studio SDKs and APIs for developers. Studio SDKs can be used to accelerate rendering and processing, but they also allow AI developers to automate some of the menial tasks that come along with content creation, such as tagging photos or color matching video.
NVIDIA didn't give detailed specifications for the first Studio laptops that will make it out of the gate, but with those RTX cards under the hood, we know that users will be able to tap into things like ray tracing for more realistic lighting, AI acceleration through RTX GPUs' tensor cores, and support for high-resolution video. Though the company couldn't give specifics on individual Studio laptops (of which there will be 17 to start), it did say that they need to meet certain hardware benchmarks. For instance, Studio laptops need to have a Core i7 CPU or better and 16GB or more of RAM.
NVIDIA also said that the Studio program will see laptops released with a range of RTX GPUs, starting at RTX 2060 and going all the way up to the Quadro RTX 5000. For creative types looking to do something relatively simple like game streaming, getting a laptop with a GPU on the lower end of that spectrum might fit the bill, whereas those who want to do 3D rendering would be better served by picking up a laptop with a Quadro RTX GPU.
These Studio-branded laptops will start landing on shelves in June, with machines from Acer, ASUS, Dell, GIGABYTE, HP, MSI, and Razer in the pipeline. Laptops in the line will start at $1,599, though obviously the price will go up from there depending on hardware configuration.