NVIDIA has officially announced today that they've made their two brand new Fermi-based workstation cards available for purchase. The company is scaling back the cores, but promises that the two new cards will be less expensive than their predecessors, and will also offer better performance over the previous cards they are replacing. The Quadro 600 has been issued only 96 cores, while the Quadro 2000 features 192 cores. Both cards hike up the performance, according to NVIDIA, even as they scale back on the hardware.
According to the company, the Quadro 600 is two times more capable than the previous workstation cards they released. As for the Quadro 2000, NVIDIA says that it is 50 percent faster at geometry rendering, versus the FX 1800. Both cards are single-slot cards, and consume far less power than alternatives. The Quadro 600 sits on a narrow board, and is said to only consume roughly 40W of energy. And, as usual, both cards will focus on the general potion of PCs, but will focus on OpenCL, DirectCompute, and CUDA. They will both also offer full DirectX 11 support, as well as OpenGL 3.x feature sets.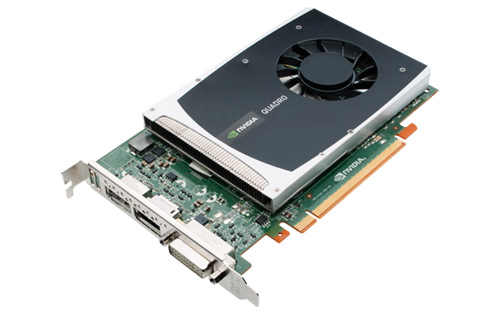 Dell, HP, and Lenovo have already said they are working on full workstations that will incorporate the new NVIDIA cards. But, if you want to just buy the cards, you should be able to pick them up for $199 for the Quadro 600, and $599 for the Quadro 2000.
[via Electronista]