NVIDIA Q1 earnings show year-on-year numbers up across the board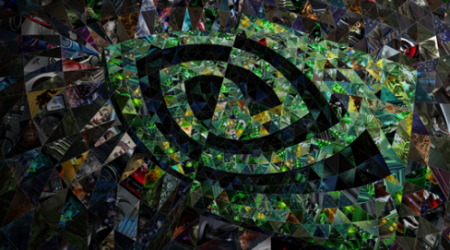 In February, NVIDIA posted the financial data for both its fiscal 2013 Q4 and its year-end 2012 data, showing record profits and stating an anticipated $940 million for its fiscal 2014 first quarter. Now the numbers are officially in, and it turns out the company beat expectations, with revenue coming in at $954.7 million. While nearly all of its numbers are down over the previous quarter, year-on-year numbers are up across the board.
Crunching the numbers, we see GAAP revenue for the previous quarter was $1,106.9, putting Q1 down 13.7-percent quarter-on-quarter. Year-on-year earnings, however, are up 3.2-percent, with the first quarter of fiscal 2013 having tallied in at $924.9. The same trend is held for the rest of the data, with gross margin and net income up year-on-year 4.2 p.p and 28-percent, respectively. Earnings per share increased from $0.13 over the previous year's $0.10, but is down from last quarter's $0.28, a 53.6-percent drop. Net income was the only other area to see the same drastic decrease, going from last quarter's $174 million down to $77.9 million.
Operating expenses, meanwhile, was the only category to increase over both the previous quarter and year-on-year, with Q1 coming in at $435.8 million. This is an 8.4-percent increase over fiscal 2013's fourth-quarter $402 million and an 11.6-percent increase over fiscal 2013's first-quarter $390.5 million.
NVIDIA's President and CEO Jen-Hsun Huang said: "The success of Kepler-based GPUs within and beyond the PC helped drive another quarter of record margins. Kepler is capturing share among gamers, strengthening our workstation and supercomputing segments, and will fuel new growth opportunities for our GRID server graphics solutions. With Tegra 4 devices and Tegra 4i certification on the way, we're gearing up to return to growth in the second half."
This fiscal year, NVIDIA plans to return over $1 billion to its shareholders, something partially accomplished during the first-quarter via a $100 million share repurchase and shelling out of $46.3 million of dividends, which works out to $0.075 per share, a figure the company plans to hold steady throughout its quarterly dividend program. The next dividend payment is scheduled for June 14.
Looking forward, NVIDIA says it expects to bring in $975 million (+/- 2-percent) in the second fiscal quarter, with GAAP gross margin coming in at 54.3-percent and non-GAAP coming in at 54.6-percent. Operational expenses are expected to continue their upwards trend for both GAAP and non-GAAP, with the former expected to come in at $448 million and the latter at $408 million. Barring so-called discrete tax events, the second quarter and entire fiscal year's tax rate expectation it pegged at 16-percent, give or take a couple percent. Capital expenditures are anticipated to fall between $65 million and $75 million, while amortization and depreciation expectations for Q2 sit between $61 million to $63 million.
During this past quarter, NVIDIA unveiled the GRID VCA (visual computing appliance), an industry first, as well as GRID-based servers and software available from big name companies, Dell and Microsoft among them. The first quarter also saw the introduction of the NVIDIA Tegra 4i and the GeForce GTX TITAN.
[via NVIDIA]