NVIDIA Offers Tease Of Coming GPU Tech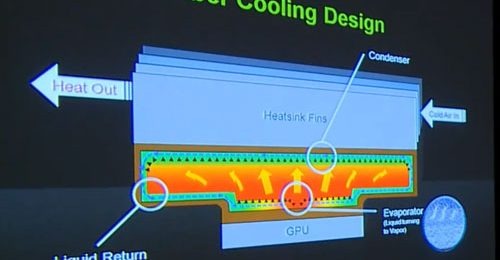 NVIDIA and AMD are fighting it out in the GPU market and neither firm is one to sit around waiting for the other to launch the next product in the video card wars. NVIDIA is teasing us with a glimpse at some future video card tech that is incoming but has not gone official at this point.
The big new feature of the card is the vapor chamber cooling tech. Any gamer or overclocker knows that the key to faster clock speeds and more performance from a video card is better cooling. Many people are already at the limit of what old-fashioned air-cooling can do and have moved to liquid cooling and other methods of getting more cooling performance.
One key feature of the vapor chamber tech is that it is quieter than traditional air-cooling, Anyone that has sat beside a high-end gaming PC working hard with a game featuring right graphics knows that the video card fans can sound like a jet ready for take off. Quieter operation when gaming is a great thing. the new GPU promises to be quieter than the GTX 480. I can't wait to hear more details on the new tech and the GPU that will use it.