NVIDIA Jetson TX2 detailed: made for robots, drones, and smart cameras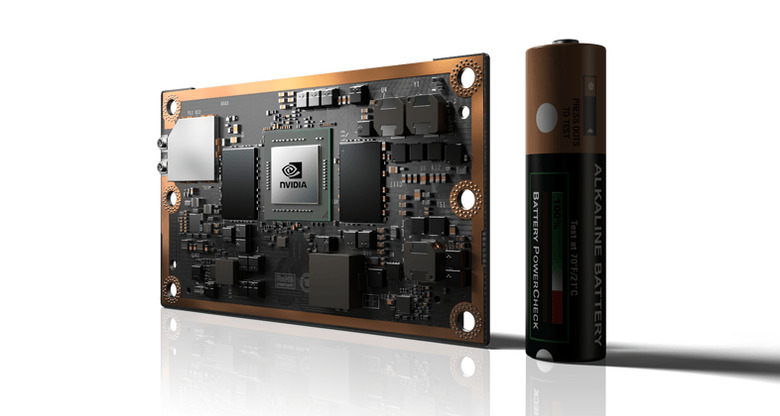 This week the folks at NVIDIA have revealed the newest in their line of Internet of Things-aimed processing power in the Jetson TX2. This platform is made for manufacturing, industrial, and retail product, ranging from commercial drones to hardware for artificially intelligent cities. This latest piece of hardware joins the original Jetson TX1 and TK1 in NVIDIA's family of embedded computing products.
"These devices will enable intelligent video analytics that keep our cities smarter and safer," said VP and General Manager of Tegra business at NVIDIA, Deepu Talla, "new kinds of robots that optimize manufacturing, and new collaboration that makes long- distance work more efficient." The basic components of this new hardware/software kit are outlined as follows.
• GPU: 256-core NVIDIA Pascal architecture-based GPU
• CPU: Dual 64-bit NVIDIA Denver 2, Quad ARM® A57
• Video: 4K x 2K 60fps encode and decode
• Camera: 12 CSI lanes supporting up to 6 cameras; 2.5 gigabytes/second/lane
• Memory: 8GB LPDDR4; 58.3 gigabytes/second
• Storage: 32GB eMMC
• Connectivity: 802.11ac WLAN, Bluetooth
• Networking: 1GB Ethernet
• OS Support: Linux for Tegra
• Size: 50mm x 87mm
NVIDIA said today that Jetson TX2 is an open platform that is "accessible to anyone for developing advanced AI solutions at the edge." To do this, NVIDIA is working with Cisco to incorporate NVIDIA Jetson processing power into their Cisco Spark products. NVIDIA is also working with students through FIRST, a K-12 nonprofit focused on science and technology.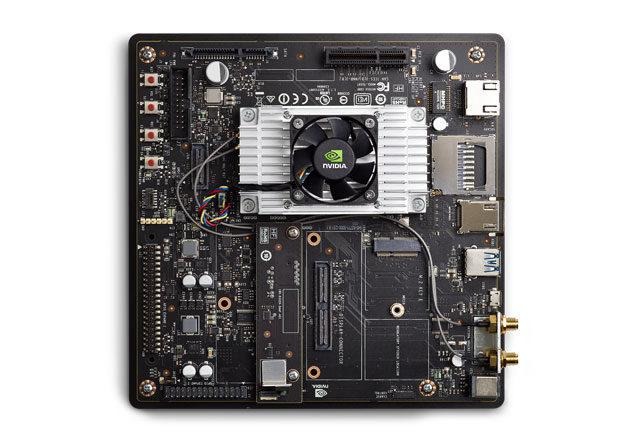 "For years, NVIDIA has demonstrated its commitment to FIRST through multifaceted support by providing Jetson developer kits for robot builds, online training resources, and team and event funding," said president of FIRST, Donald Bossi. "Through these efforts, NVIDIA is helping to inspire more young students to become innovators and inventors."
The NVIDIA Jetson TX2 Developer Kit will be made available for pre-order starting today. This device is being made available for $599 USD in the United States and Europe. Shipping will begin on March 14th, 2017, while the standard Jetson TX2 module will become available in Q2. This standard model will be available for $399 (in quantities of 1k or more), while the Jetson TX1 Dev Kit will be reduced in price to $499.