NVIDIA graphics for MacBook & MacBook Pro, plus Blu-ray?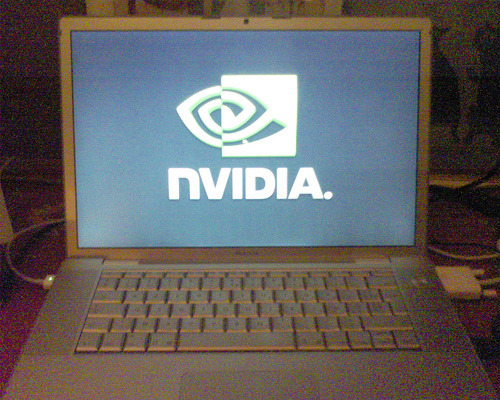 Despite the blame flying around between Apple and NVIDIA over ongoing MacBook graphics failures, the upcoming laptop refresh will apparently include video chipsets from NVIDIA's MCP79 platform, rather than use Intel integrated graphics, together with Blu-ray drives.  They're the latest multimedia rumors surrounding the upcoming MacBook and MacBook Pro refresh; Apple Insider suggests that GeForce 9300 and 9400 series integrated mainboard graphics processors will find their way into the entry-level 13-inch models, better differentiating them from Windows machines using Intel's less-capable GMA 4500MHD chipset.
They also claim that the MacBook Pro will get NVIDIA's GeForce 9600M graphics chip, although the improvement in performance would be less dramatic than the 13-inch machines switch.  Physical design could also be a consideration, with the two new NVIDIA chipsets being single-chip rather than Intel's dual-chip design; that saves mainboard space and lets everything fit into new, sleeker cases.
As for Blu-ray, Digg's Kevin Rose made the high-definition disc claim at an event in London, part of the "Future of Web Apps" Expo.  Rose's track-record for Apple rumors is reasonably good, having accurately predicted the recent iPod and iTunes refresh.
[image courtesy Dhjiz]