NVIDIA has officially kicked off its GeForce GTX 760 GPU, which is being offered at the budget-friendly price of $249 and harboring Kepler architecture. In gaming benchmarks, the GTX 760 beats out the previous GTX 660 across the board, in some cases quite substantially. NVIDIA hails it as offering power "dramatically" beyond the gaming consoles slated to hit shelves in the coming months.
The NVIDIA GeForce GTX 760 supports a variety of the company's gaming tech, such as TXAA anti-aliasing and the PhysX physics engine, while those with a penchant for overclocking will enjoy the GPU Boost 2.0 technology. There's GeForce Experience software for drivers and ShadowPlay software, as well as the scaling tech NVIDIA SLI.
To put things in perspective with comparison, the GTX 760 represents a tripling of speed over the GeForce GTX 275, and about double that of the GTX 560. The GPU will be offered in systems from Geekbox, Digital Storm, AVADirect, Cyberpower, and others, but can also be nabbed now from various card suppliers like Asus and Gigabyte.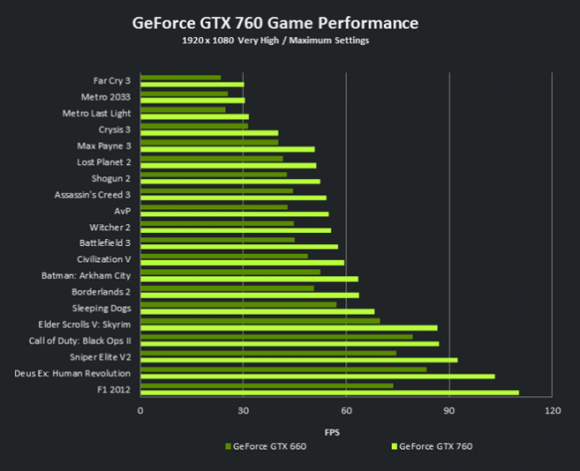 And while we're talking about NVIDIA, the company also released its GeForce 320.49 beta drivers today, which can be downloaded over on the GeForce website. With the drivers come performance enhancements and fixes for most of the problems that have been noted in feedback, with the company saying they're recommended for those playing recently released games.
NVIDIA's General Manager of its GeForce GPU unit, Scott Herkelman, said: "For gamers seeking insanely fast performance and smooth frame rates for their favorite games, the choice is clear: NVIDIA GeForce GTX GPUs. At a starting price of only $249, the GeForce GTX 760 ushers in a new level of performance, features and affordability, so gamers can experience today's most graphically demanding titles with all the eye candy turned high. It's a great time to be a PC gamer!"
SOURCE:
NVIDIA