NVIDIA GeForce G210 And GT 220 With 40nm GPUs Official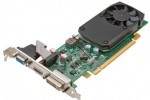 Yesterday's rumored NVIDIA 40nm GPUs have been made official, in the shape of listings for two new OEM cards: the NVIDIA GeForce G210 and the GeForce GT 220.  Both support DirectX 10.1, OpenGL 3.0 and CUDA, with the G210 having VGA, DisplayPort and DVI outputs while the GT 220 has VGA, HDMI and DVI.
Full specifications for both cards after the cut
The GeForce G210 has 16 processor cores and a 589MHz CPU clock speed; that's paired with 512MB of DDR2 memory with a 64-bit interface and 500MHz clock speed.  Its shader runs at 1,402MHz.  As for the NVIDIA GeForce GT 220, that has 48 processor cores and a 615MHz clock speed, paired with 1GB of GDDR3 memory with a 790MHz clock and 128-bit interface.  It has a slightly slower shader clock speed of 1,335MHz.
Neither card is expected to be available directly to consumers, instead being entry-level options in pre-built PCs.  Each has a maximum display resolution of 2,560 x 1,600; no word on when we'll see them on sale.
[via The Tech Report]