NVIDIA GeForce 314.07 drivers bring Crysis 3 optimizations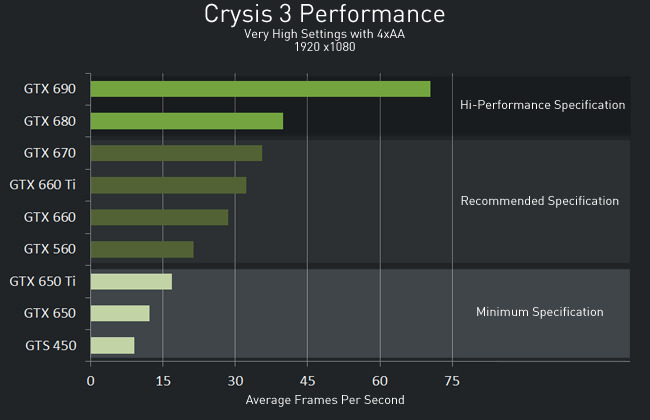 NVIDIA has released its latest WHQL-certified GeForce drivers, this time bumping it up to version 314.07. These new drivers are pretty much based on previously-released beta drivers, and the new 314.07 update brings a slew of performance improvements to Crysis 3, as well as a handful of other games.
Specifically, the new 314.07 WHQL drivers improves single-GPU and multi-GPU performance in Crysis 3 by up to 65%, which is quite a jump if you ask us. Plus, other games get a slight boost as well, such as Assassin's Creed III with a 27% boost, a 19% bost in Civilization V, 14% boost in Call of Duty: Black Ops II, 14% boost in DiRT 3, 11% boost in Just Cause 2, 10% boost in Deus Ex: Human Revolution, 10% boost in F1 2012, and a 10% boost in Far Cry 3.
Crysis 3 just released today actually, so NVIDIA's timing was perfect on this one, allowing gamers to give their video card a quick boost when it comes to graphic-intensive gameplay. NVIDIA points out in the release notes that EA recomends a GTX 560 or higher for Crysis 3 in order to play it smoothly, or a Geforce GTX 680 if you want the full effect. Of course, the GTX 690 will get you the best performance, with an increase of almost half over the GTX 680.
The new drivers also come with an "Excellent" 3D Vision profile for Crysis 3, as well as a SLI profile for Devil May Cry. You can also grab an updated SLI profile for Warframe, the free-to-play, third-person co-op shooter. All in all, the new 314.07 drivers should be a recommended download for anyone planning to tackle Crysis 3 or any of the other new games that have recently released.