NVC case offers night vision and backup battery for the iPhone 6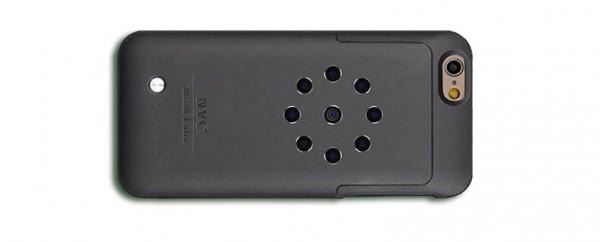 Various smartphone cases are available that bring additional functionality to handsets, and often this extra functionality revolves around photography. The Flir One case is one such example, allowing iPhone users to record thermal footage from their phone. Joining this is the NVC, which uses a series of infrared LEDs to give the iPhone 6 night vision capabilities. The case packs its own camera, as well as an integrated battery that can double as a secondary battery for the handset when needed.
The NVC (Night Vision Camera) case is being offered for both the iPhone 6 and the iPhone 6 Plus, bringing with it enough battery life to completely recharge the handset, or to power the 8 940nm LEDs and 5-megapixel integrated camera. The case connects with the handset via WiFi, and is controlled through its own app.
In addition to the night vision functionality, the NVC also offers a microSD card slot for expanding storage capacity. The iPhone's camera roll can also be backed up to the storage card. Because connectivity is achieved via WiFi, the case can be used remotely from the iPhone as long as it is within range.
NVC is being funded via Kickstarter, where the makers hope to raise $50,000 USD. Thus far about $1,400 USD has been raised with 28 days remaining. A pledge of $129 USD will get your a pre-production NVC case, which is set to ship in May 2015. It seems the case will be priced at $249 USD once it hits shelves.
VIA: Gizmag