Nuro R2 self-driving delivery pod hits US autonomous vehicle milestone
US regulators have granted the first self-driving vehicle exemption, allowing the Nuro R2 to drive autonomously on public streets, though don't expect to catch a ride in one yourself. The R2 is SoftBank Group-backed Nuro's driverless delivery vehicle, which the startup hopes will give grocery stores, restaurants, and other retailers a human-free option for shuttling products to buyers.
Trials of the Nuro R1 kicked off in 2018, with retailer Kroger testing the original autonomous pod for deliveries in Scottsdale, Arizona. Resembling a condensed version of Google's self-driving pod car, the R1 had gull-wing doors that revealed individual cargo sections, and which could be unlocked after the recipient punched in their unique PIN code.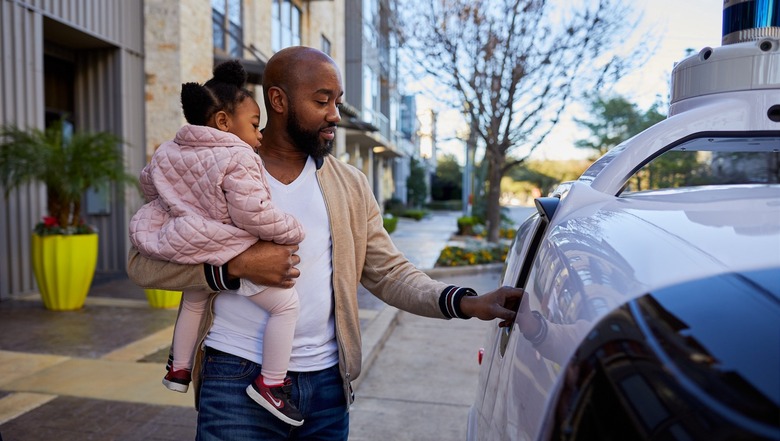 Nuro R2
The R2 picks up where the R1 left off. The second-generation vehicle looks much the same as the first, but Nuro is outsourcing production to Roush. The Michigan-based company – known for its aftermarket performance superchargers, among other things – will be designing and assembling the R2 in the US.
Among the changes are a new, more durable vehicle body, making the R2 more amenable to bad weather. It also allows for two-thirds more cargo space, without a wider vehicle, and there's now temperature control for those compartments. As before it's electric – with a maximum speed of 25 mph – but the 31 kWh battery promises double the range.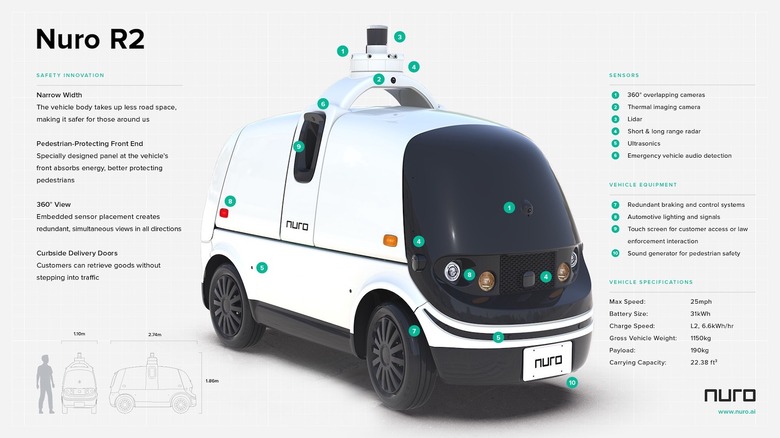 There's a whole suite of new sensors, too, some off-the-shelf and others custom designed, Nuro says. That includes 360-degree overlapping cameras, thermal imaging cameras, LIDAR, short and long range radar, and ultrasonics. There's also the ability for the R2 to hear an emergency vehicle siren. The result, Nuro says, is 360-degree views from the roughly human-height pod.
A DOT and NHTSA first for autonomous vehicles
While self-driving cars aren't new to the public streets, they typically have to satisfy a number of restrictions. Most still have a human driver behind the wheel for safety, poised to take over should something go amiss. The Nuro R2, though, not only doesn't have that human safety operator, it doesn't even have traditional controls – or indeed seats – or mirrors.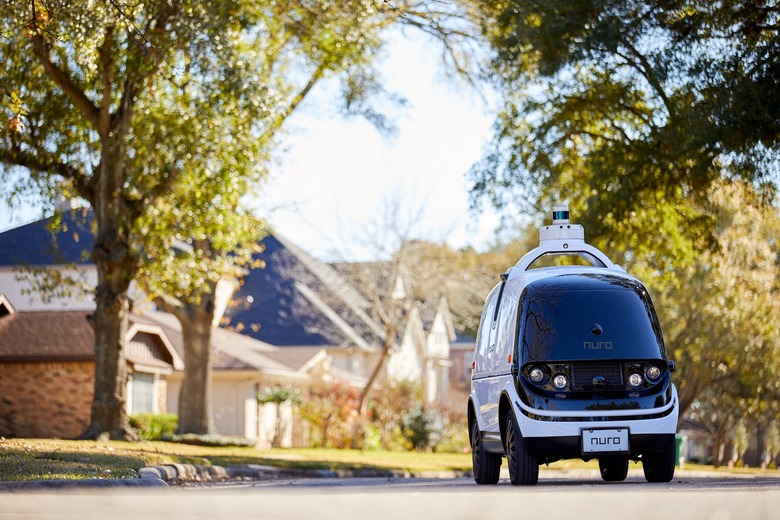 Nuro applied for a self-driving vehicle exemption from the US Department of Transportation (DOT) and the National Highway Traffic Safety Administration (NHTSA) for R2, allowing it to bypass traditional requirements such as mirrors and pedals. That was granted – after three years of negotiations – giving Nuro the ability to kick off public road testing of the vehicle in Houston, Texas, in the coming weeks.
That'll pave the way for commercial deliveries, with Nuro saying that it's in discussions with a number of companies for such services. As part of the agreement, Nuro will be providing real-time reporting on R2 performance to the NHTSA, among other things, as the agency shapes its broader regulations for zero-occupant delivery vehicles.