Numark MixMeister, OMNI CONTROL & NS7 USB DJ Control Surfaces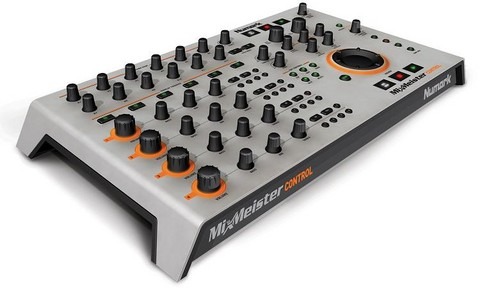 If you're more reliant on your computer for your digital music than Numark's standalone DJ products would allow, the company has three new control surfaces to offer.  The MixMeister, OMNI CONTROL and NS7 all offer varying degrees of hands-on tweaking for use in both studio and live situations.  The MixMeister Control is a USB-powered surface that comes with MixMeister's Fusion software; all 94 knobs and buttons correspond exactly with those on-screen, with Fusion handling the technical side of beat-matching, setting cue points and re-pitching.  Power and connectivity is handled by a single USB cable.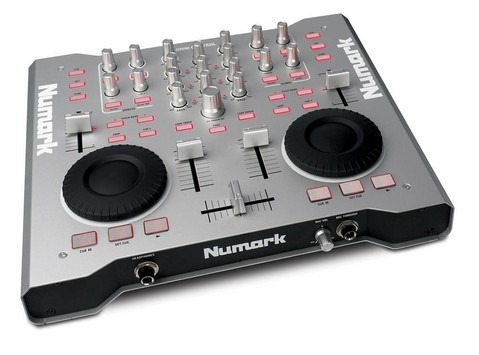 The OMNI CONTROL is a combination hardware control surface and audio I/O sound card.  Copies of Native Instruments Traktor LE 3 and MixMeister Fusion Live are included, and the OMNI CONTROL connects via USB together with two stereo outputs and headphone output.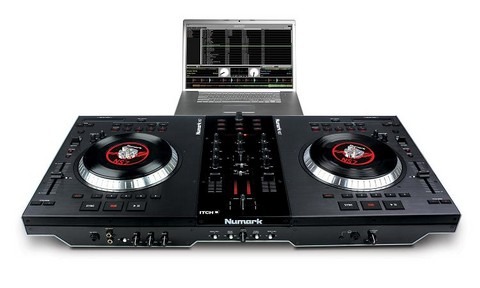 Finally, the NS7, which Numark have developed to work with Serato's ITCH software (included). Two seven-inch motorized, adjustable-torque, aluminum turntable platter controls complete with vinyl, slipmats and 45 RPM adapters take center stage, with a premium DJ mixer with replaceable, digital VCA crossfader and line faders, rubberized knobs, switches and buttons, Strip Search and virtual-needle drop controls.
A single USB cable links a PC with the NS7's 24-bit digital audio interface with mic/line input and headphone and system outputs. Numark and Serato developed a communication protocol for communication between NS7 and the computer that sends MIDI data over a single USB cable at more than twice the standard speed. The result is extremely high-resolution control with full MIDI compliance, and while designed for ITCH the NS7 will also control any MIDI-compatible DJ software.
The three new control surfaces should be available now; Numark is yet to announce pricing.