NuForce Dia wants to amp your Apple TV and more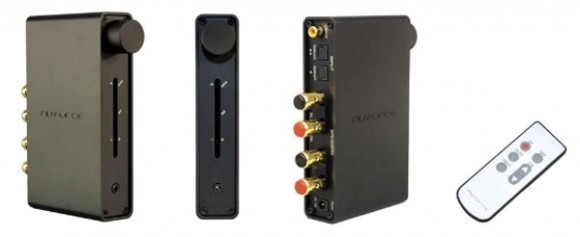 NuForce has unveiled a new digital amplifier for digital audio and streaming devices called the NuForce Dia. The new amplifier promises clear sound without having to be overly complex. The amp delivers 24-bit/192kHz D/A converting and a 24W stereo amp. The design of the device is to connect to your TV components like DVD players, HDTVs, Blu-ray players, and Apple TV boxes among other things.
NuForce says the sound card inside is audiophile grade. It will also support streaming devices like the AirPort Express as well. The amp bypasses the internal digital to analog converters inside your components for better sound. The Dia is made to work with all sorts of different setups. For instance, it can hook to your TV and then power a 2.1 speaker system and lots more.
It has two TOSLINK ports and a single RCA coaxial port for inputs. The outputs include a line out for subwoofer and speaker outputs. The frequency response of the device is 20 to 20kHz +- a decibel. NuForce ships the amp with a silicone stand and an IR remote control. The Dia is available now for $299.